SlackOut
Compatibility After Effects

Please check exact version compatibility under the "COMPATIBILITY" tab below

Compatibility Premiere

Please check exact version compatibility under the "COMPATIBILITY" tab below
The SlackOut panel for Premiere Pro and After Effects automates the exporting and sending of your edits to Slack, so that when you are finished with editing and need to share your work, you are exactly one click away from grabbing a cup of coffee and relax !
This plugin will :
Handle the naming of your file professionally and increment it so that it's unique;
Let you quickly set an export preset, even custom ones;
Export your file in an "export" folder next to your project file or in a custom folder;
Finally, it can upload your video to Slack, either to a channel or a user.
The panel will memorize all settings per sequence, so that you'll need to set it once
You can connect the panel to multiple Slack teams by clicking the little slack icon. Your credentials will be saved on your computer until you decide to log out.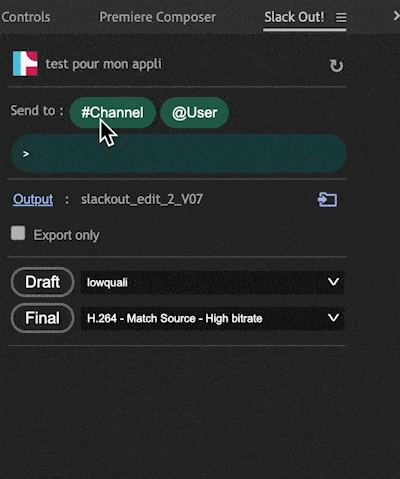 The panel has two export buttons : Draft and Final. Both have their own codec configuration next to it. The idea is that you can set up a light size file for draft export and high quality file for final exports. "[DRAFT]" or "[FINAL]" will be indicated at the end of the file so that you and your client are aware of the file type.
The panel also has a really useful "Go to export folder" button that will open the finder/explorer window to your destination folder.
If you created a new channel in Slack or a new export preset in Premiere Pro or After Effects, you can hit the update button in the top right corner. Click it to reflect the changes in the panel.
| | |
| --- | --- |
| After Effects | 2023, 2022, 2021 |
| Premiere | 2023, 2022, 2021 |
3.1.3 (Current version) - Dec 12, 2022
- ADDED AFTER EFFECTS COMPATIBILITY
- Multiple bug fixes
3.1.2 - Dec 12, 2022
- ADDED AFTER EFFECTS COMPATIBILITY
- Multiple bug fixes
2.0.1 - Dec 2, 2022
fixed a breaking bug
1.3.0 - Oct 10, 2022
updated the install manual
1.3.0 - Oct 8, 2022
updated the install manual
1.3.0 - Oct 4, 2022
Initial release
1.3.0 - Oct 4, 2022
Initial release