Slice it Up
Compatibility After Effects

Please check exact version compatibility under the "COMPATIBILITY" tab below
What is it
Slice it Up is a tool that cuts footage into any number of vertically aligned slices by duplicating it N times and applying random width masks to it. Those pieces are brought into one composition later and laid one over another to create undistorted image. Tool provides controls to set random or linear offset to X, Y and Z position for each slice, adjust the expansion and rotation angles for the mask.
One of the most flexible things that Slice It Up provides is the ability to randomise slices in the UI panel at any time. If you don't like the width of your slices and feel like a change up, just hit the "Random Width" button. If randomised position is not your taste, re-randomise it at any time without loosing your keyframes even after closing and opening the project.
While those buttons regenerated a new seed for width or position, button "<" will take one step back and regenerate previous seed value. This way you are free to skip throught possible options and find a look that fits you best.
---
Slice it Up is procedural and non-destructive way to slice your footage in After Effects. Also available for Adobe Illustrator and Cinema 4D
---
Features
Pseudo Effects or regular AE Sliders
Unlimited number of slices;
Z Space distribution;
Rerandomise width at any time;
Rerandomise slice position at any time;
Rerandomise or make slice width even at any time;
Random or linear slice distribution in space;
Regenerate previous seed to find that perfect look;
Check for script updates;
Workflow
Select a layer you wish to slice, enter desired value for slices, check/uncheck Z Space distribution, select Container Mode and hit Slice it Up. Sit back and watch the magic happen.
After slicing is finished you will see new composition that has Slider Controls attached to it. Parameters like Y Offset / X Shuffle / Z Space are meant to be animated. Choose between linear and randomised offset for those values. Combining them together with Rotation and Expansion will result in great and unique animation.
You have ability to randomise slices right in the GUI at any time. If you don't like the width of each slice and want to have it different, hit "Randomi Width". If randomised position for the slices is not your taste, re-randomise them at any time without loosing your keyframes even after closing / opening the project.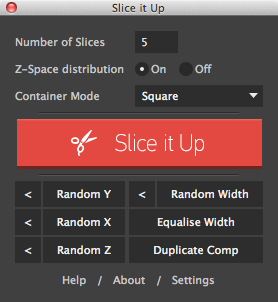 User manual
Looking for more info about the tool? Find it in User Manual.
Trial version
The free trial version can be downloaded above.
Bundle Offer
Buy 2 of Slice it Up for After Effects, Adobe Illustrator or Cinema 4D to save 10% OR get them all at once with a 20% discount. Discount shown automatically in shopping cart.

Featured work created using Slice It Up
Created by James Harford
| | |
| --- | --- |
| After Effects | CC 2017, CC 2015.3, CC 2015, CC 2014, CC, CS6, CS5.5, CS5, CS4, CS3 |
1.5.1 (Current version) - Mar 13, 2015
- Fixed bug when animated effect sliders occur not where the keyframes are but at keyframe time + in point time;
- Fixed bug when layer being sliced is not at time zero;
1.5 - Dec 21, 2014
- New: Regenerate previous random seed for slice width and position;
- New: Equalise or randomise slice width at any time;
- New: Duplicate sliced composition;
- New: Use Pseudo Effects or of default After Effetcs sliders;
- New: Check for updates option;
- Slices have random width by default;
- Removed "Random width Slices" checkbox;
1.1 - Nov 25, 2014
- Fixed bug that crashed script when slicing non-vector file;
- Notification will pop up when you try to slice a layer that has keyframes. Layers with keyframes for Anchor point, Position, Scale, Rotation and Opacity cannot be sliced.
1.0 - Oct 30, 2014
Initial release