Slice it Up Cinema 4D
Compatibility Cinema 4d

Please check exact version compatibility under the "COMPATIBILITY" tab below

What is it
Slice it Up is Python driven Cinema 4D plugin that cuts closed splines into any number of vertically aligned slices by duplicating it N times and applying random width spline masks to it. Those pieces are brought together and laid one to another to create undistorted image. Plugin provides controls to set random or linear offset to X, Y and Z position for each slice, adjust the expansion and rotation angles for the mask.
The most flexible thing that Slice It Up for Cinema 4D provides is the ability to change any values at any given time - all controls are live, as long as you don't make Slice it Up editable.
---
Slice it Up is procedural and non-destructive way to slice spline objects in Cinema 4D. Also available for After Effects and Adobe Illustrator
---
Features
Slices can be animated with MoGraph Effectors;
Works on Cinema 4D R12 and newer versions (except Lite version). R17 requires R17.048 update;
Fully parametric - change values at any time;
Intuitive user interface;
Mesh can be generated by enabling "Generate Mesh" checkbox;
Works with any closed spline object. Parametric splines supported as well;
Unlimited number of slices;
Equal or random width slices;
Adaptive container mode, that adjusts mask width based on spline shape and angle;
Option to slice mask interior or exterior area;
Directional or Bi-Directional slice movement;
Invert slice movement with a single button click;
Random or linear slice distribution in space;
Random seeds for slice width and individual X, Y, Z position;
Rotate mask splines on Z axis;
Shrink or expand masks width or height;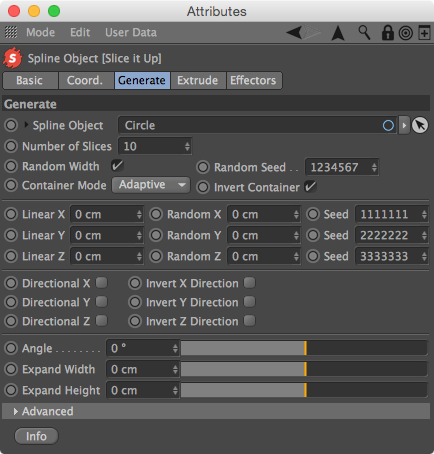 Workflow
Drop closed spline into "Spline Object" field and immediately you will get it sliced into 10 equal slices. Adjust "Number of Slices" to your taste - feedback is immediate and non-destructive. That means you can always revisit this value. It also applies to any other plugin parameters - everything is live and tweak-able at any time.
If equal width slices are not your taste, simply enable "Random Width" checkbox to regenerate width. Go nuts with "Random Seed" value until you get the result you are after.
Similar to After Effects version of Slice it Up, you can move individual slices in 3D space. Use "Linear X", "Linear Y", "Linear Z" values to move peaces in a linear fashion. Introduce randomness to the movement by adjusting "Random" values, as well as "Random Seed" for movement randomness.
Control the angle of the spline mask my changing "Angle" slider - it will rotate the slices on Z axis.
In order to shrink or expand the mask, tweak "Expansion" value. Moving slider to the minimum will shrink the mask spline, while moving to the right will expand the mask. If "Random Width" slices checkbox is enabled, then some slices will dissipate faster then the rest, resulting in a unique object transition.
Slice it Up is a spline generator and Cinema 4D does not render splines to picture viewer. You need to add Extrude Nurbs generator to the scene and make Slice it Up a child of it. Enable "Hierarchical" checkbox under Extrude Nurbs' Object tab, as Cinema 4D will render only one slice if this option is off. And that's it - doesn't get any easier.
Limitations
Third-party C++ and Python plug-ins are not part of the Cinema 4D lite feature set. This removes the ability for many plugins to work with C4D Lite.
User manual
Looking for more info about the tool? Find it in User Manual.
Trial version
The free trial version can be downloaded above.
Cross-grade Offer
If you already own the After Effects or Illustrator versions you can get this version for a 20% discount if you owned before the release date of March 2, 2014 or a 10% discount if you purchased it after. Just make sure you are logged in to the same account that you purchased the AE version with. Contact support if you need any assistance
Bundle Offer
Buy 2 of Slice it Up for After Effects, Adobe Illustrator or Cinema 4D to save 10% OR get them all at once with a 20% discount. Discount shown automatically in shopping cart.

| | |
| --- | --- |
| Cinema 4D | R20, R19, R18, R17, R16, R15, R14, R13, R12 |
1.2.2 (Current version) - Oct 9, 2015
Fixed issue that prevented plugin to run on Chinese, Czech, Italian, Japanese, Korean, Polish language interface;
Fixed "Generate Mesh" bug that was accuring on R12 to R15
1.2 - Apr 13, 2015
NEW: Slices can be animated using MoGraph Effectors;
1.1 - Mar 23, 2015
NEW: No need to add Extrude Nurbs object, as Mesh can be generated by enabling "Generate Mesh" checkbox;
NEW: Option to move slices in Directional mode (Bi-Directional is default);
NEW: Invert slice movement with a single checkbox;
NEW: Separate controls for masks Width and Height;
IMPROVED: Texture now sticks to slices if mesh is generated with "Generate Mesh" option;
IMPROVED: Option to change Mask Width/Height Threshold when C4D produces errors with really thin slices;
IMPROVED: Option to change Container Width/Height parameter to avoid intersection of container spline and your splice object.
1.0.1 - Mar 5, 2015
Fixed C4D R12 licensing window bug;
1.0 - Feb 23, 2015
Initial release