Slice it Up Illustrator
Compatibility Illustrator

Please check exact version compatibility under the "COMPATIBILITY" tab below

What is it
Slice it Up is a tool that cuts artwork into any number of vertically aligned slices by duplicating it N times and applying clipping masks to it. Those pieces are combined into one group and laid one over another to create undistorted image. Tool provides controls to set random or linear offset to X and Y position for each slice, adjust the expansion and rotation angles for the clipping mask.
---
Slice it Up is procedural and non-destructive way to slice your artwork in Adobe Illustrator. Also available for After Effects and Cinema 4D
---
Features
Live preview;
Unlimited number of slices;
Linear or random slice distribution in space;
Equal or random slice width;
Mask angle control;
Positive and negative mask expansion;
Workflow
Select a layer you wish to slice and run the script. Enable "Preview" checkbox for live feedback. Enter desired value for slices, Adjust sliders for X and Y axis distribution, select Container Mode and you're done. Press "Slice it Up" button to confirm.
By default slider values are limited. However, if you feel that provided values does not suit your need, then enter custom values to edit box field. That should get you covered.
You will find one group layer that holds all the slices once slicing is finished. All is nice and dandy, but for the sake of safety select that group and run "Merge" or "Trim" command from Path Finder menu. This way each slice will be trimmed to its content.
User manual
Looking for more info about the tool? Find it in User Manual.
Trial version
The free trial version can be downloaded above.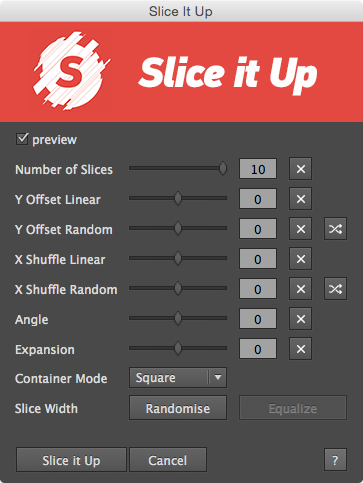 AE version cross-grade
If you already own the After Effects version you can get this version for a 20% discount. Just make sure you are logged in to the same account that you purchased the AE version with. Contact support if you need any assistance
Bundle Offer
Buy 2 of Slice it Up for After Effects, Adobe Illustrator or Cinema 4D to save 10% OR get them all at once with a 20% discount. Discount shown automatically in shopping cart.

| | |
| --- | --- |
| Illustrator | CC 2019, CC 2018, CC 2017, CC 2015.3, CC 2015, CC 2014, CC, CS6, CS5 |
1.0 (Current version) - Dec 16, 2014
Initial release