Chump NFT Engine
Compatibility After Effects

Please check exact version compatibility under the "COMPATIBILITY" tab below
Easy Generative Art & Metadata for NFT Collections
Chump NFT Engine is a tool to allow artists to setup their artwork for large (or small) generative NFT collections & export those collections directly from After Effects, along with the necessary metadata files and statistical data.
It's made by artists to make entry into NFTs more intuitive so that we can focus on the important part - the artwork.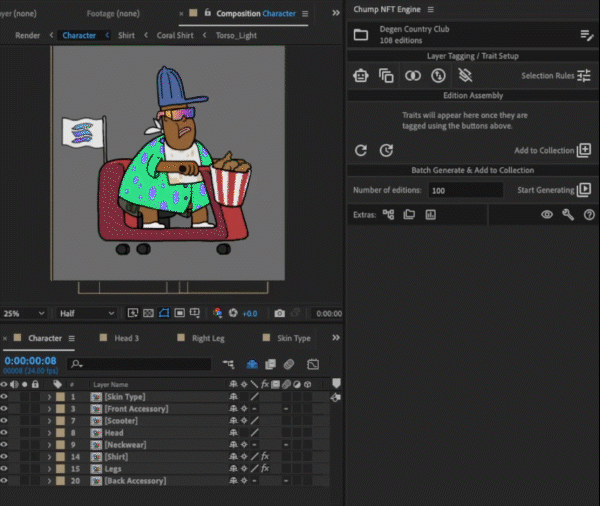 Key Features
Blockchain-ready multi-media NFTs
Export thousands of unique combinations as still-image, video or audio collections, along with blockchain-ready json metadata files for each.
Get started in a few clicks
A simple tagging system lets you easily define traits and their options, as well as more complex setups if needed.
Selection rules for greater control
A rule system allows you to control exactly how selections are made through probability and visual compatibility.
Metadata made easy
A metadata editor makes setting up & updating your collection details quick and easy, and ensures you'll have all the information needed for the Ethereum or Solana networks.
Advanced visual options
Add visual complexity to your setups with support for sub-selection variants and multi-layer traits.
Fine tune your collection
Curate your collection by hand-creating custom editions that still adhere to the selection rules, and load existing editions for editing and adjustments.
Uniqueness control
Control exactly how different each edition needs to be to make the cut to balance collection size with visual diversity.
Endless potential
Push your collection to the limit with expressions, effects, simulations, masks, shapes and all the other bells and whistles offered by After Effects.
This tool is free for holders of Block Chump NFTs
Check out our website for more information as well as detailed documentation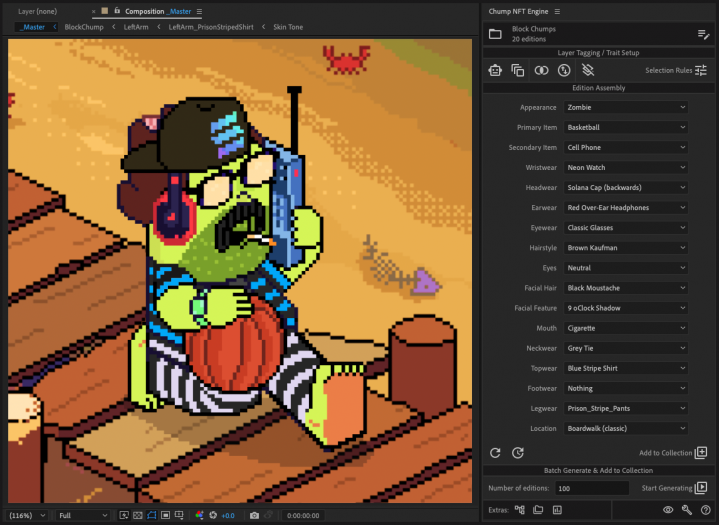 | | |
| --- | --- |
| After Effects | 2023, 2022, 2021 |
2.1 (Current version) - Feb 25, 2023
fixed a critical bug causing PNG exporting to fail when the composition frame rate is 29.97
2.0 - Dec 16, 2022
initial release
2.0 - Dec 16, 2022
initial release