EaseCopy
Compatibility After Effects

Please check exact version compatibility under the "COMPATIBILITY" tab below
If you're like me, you find that After Effects' standard Ease in, Ease out, Easy ease options get pretty stale to look at. If you like to manually adjust your eases with the graph editor, this tool is for you!
Use EaseCopy to copy those carefully-adjusted eases to your other keyframes. Get started right away with a very quick and simple UI. It's super compact so you can have it docked at all times, since you'll find yourself tapping those buttons quite frequently.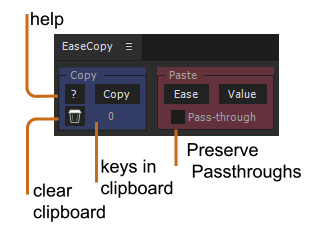 EaseCopy is very versatile. You can copy over many eases in one click. Eases are transferable between all properties that can be interpolated. EaseCopy is a smart tool in that it doesn't paste your eases apples to apples. It analyzes your animation and scales your eases appropriately and even flips them for velocities traveling in opposite directions.
Use the Pass-through option to make EaseCopy prioritize matching the pass-through velocity for intermediary keyframes. Ideal for strips of three or more keyframes, to avoid velocity hiccups.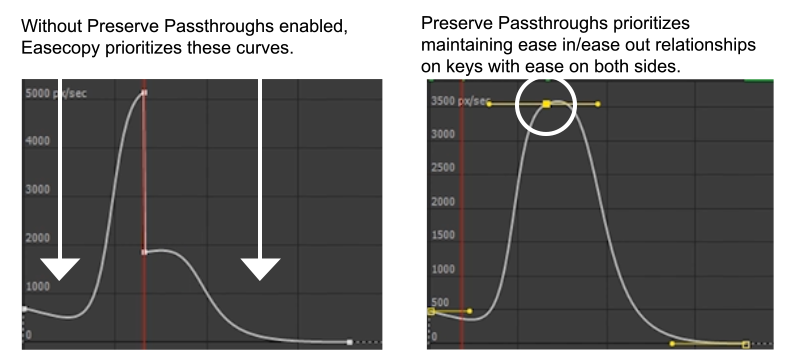 In order to paste your eases or values, you need to select the same number of keys or a multiple of the keys in your clipboard. If you are pasting values, your property types must match your copied keys.
Headless support with KBAR integration and standalone scripts.
EaseCopy also works with KBAR! You can now shed that scriptUI panel and put all of EaseCopy's functionality into one button!
Additionally, EaseCopy comes with standalone scripts for Copy, Paste Eases and Paste Values. Assign these to keyboard shortcuts using the Keyboard Shortcuts Editor in After Effects to give your workflow a bigger speed-boost
| | |
| --- | --- |
| After Effects | 2023, 2022, 2021, 2020, CC 2019, CC 2018, CC 2017, CC 2015.3, CC 2015, CC 2014, CC, CS6 |
1.7.3 (Current version) - Aug 11, 2022
Improved alerting and handling of write permission issues in userData folder.
1.7.2 - May 10, 2021
Patch update:
Automated installation of standalone scripts into the correct script folders with the aescripts + aeplugins manager app.
1.7 - Jan 19, 2020
Including shortcut scripts, so users can assign functions to keyboard shortcuts
1.6 - Jul 24, 2018
KBAR use now without the strict memory limitations!
1.5 - Jun 4, 2018
Added KBAR functionality.
1.0.1 - Mar 14, 2018
Fixed a cs6 bug wtth loading UI images
1.0 - Aug 5, 2015
Initial Release