Joysticks 'n Sliders
Compatibility After Effects

Please check exact version compatibility under the "COMPATIBILITY" tab below
Joysticks 'n Sliders is a pose-based rigging system for After Effects with limitless applications.
Joystick controllers are commonly used in 3D character rigging for facial animation. With this tool, you simply set five consecutive keyframes to represent your origin, right, left, top, and bottom extremes. With those layers selected, you can instantly create a joystick controller on the stage that will interpolate between those extremes appropriately.
Joysticks and Sliders is such a joy to use. I'm really excited to see a tool that lets you skip so many complicated parts of rigging so you get down to animating. Highly recommended! -
Adam Plouff (battleaxe.co)
wow-
Andrew M.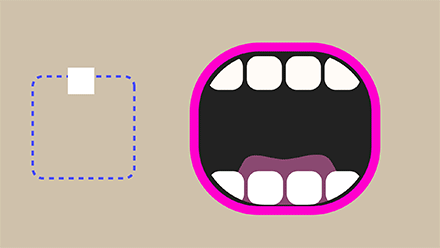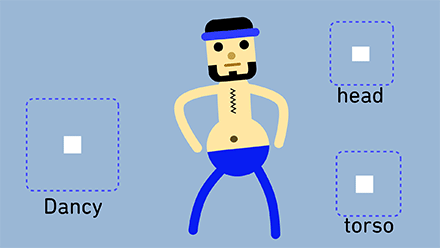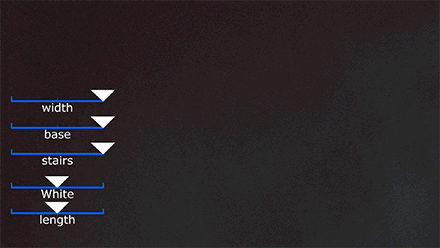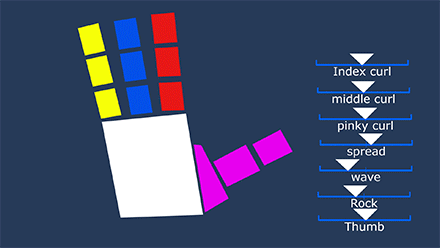 For many characters, you may want to have replaceable parts like mouth packs for different angles. Joysticks 'n Sliders lets you create a Switch Template to help you automate the swapping of those assets according to your joystick's position.
Sliders are similar in setup to Joysticks. While sliders may feel more technical than joysticks for controlling your animation, they can be much more powerful. Unlike joysticks, there is no limit to how many poses you can create with your layers. Additionally, you can mix them together in any way you wish. This is great for rigging hands, eyes, mouths, or even a set of poses for the entire body of a character. It can even be used for motion graphics and abstract animation.
Joysticks 'n Sliders works great with puppet pins, Limber, BAO Bones, PuppetTools, DUIK, and Rubber Hose. Add it to your rigging arsenal today!
Trial Limitations
The trial version lasts for 7 days, limits you to four sliders per Slider Null, and disables the ability to move your controllers to a parent composition.
Known Issues
Joysticks n Sliders 1.7.5 is not working for After Effects CS6. Currently working on a bugfix to restore compatibility
Free Downloads
| | |
| --- | --- |
| After Effects | 2023, 2022, 2021, 2020, CC 2019, CC 2018, CC 2017, CC 2015.3, CC 2015, CC 2014, CC |
1.7.10 (Current version) - May 16, 2023
- Bugfix for AE 23.4 and UISliders.
- Update licensing framework to 4.1.4
1.7.9 - Sep 17, 2022
- Update licensing framework to 4.1.3
- Fix jsxbin naming typo
1.7.8 - Aug 14, 2022
- Update licensing framework to 4.1.1
1.7.7 - Feb 28, 2022
- bugfix/slider rigging bug fixed
1.7.6 - Feb 27, 2022
- Updated licensing framework (4.0.3)
- bugfix/ error parsing layer names with square brackets.
1.7.5 - Aug 23, 2020
Updated licensing framework (3.0.48)
1.7.4 - Nov 14, 2019
Updated licensing framework
1.7.3 - Sep 7, 2019
Updated licensing framework for MacOS 10.15 Catalina

Error checks for rigging of shapes with inconsistent vertex count
1.7.2 - May 31, 2019
Fixed bug alt-unbinding selected layers if layers contained rigged pathshapes.

Added support for binding/unbinding individual properties.

fixed a dropdown refreshing bug for CC2014 users.

Fixed a bug failing move to parent or child if Origin layer is locked.
1.7.1 - Feb 20, 2019
Fixed a bug that prevented creating UI sliders.

Fixed bug moving joysticks to child comp when no animation present

updated licensing framework
1.7 - Feb 15, 2019
BIG speed boost in path shape expression performance.

Move Joystick to parent works with separated dimensions, also works when Joystick Origin is parented.

Error handling to avoid naming conflicts.

rigs with controls moved to parent now work with BodyMovin'.


1.6.71 - Oct 21, 2018
Fixed a bug with sliders and path rigging.
1.6.7 - Oct 18, 2018
Updated expressions to work with the new Javascript Engine in CC2019
1.6.6 - Aug 15, 2018
fixed a bug that was causing errors for some users on first launch.
1.6.5 - Jun 11, 2018
Fixed another bug for cs6 users.
1.6.4 - Apr 23, 2018
updated licensing framework,
Trial period lasts 7 days instead of 14.
1.6.3 - Mar 13, 2018
Icon image loading bug fixed for cs6 versions of After Effects.
1.6.2 - Feb 26, 2018
Fixed a Move to Parent dropdown refresh bug in AE v.12
1.6.1 - Feb 18, 2018
bug fix for unbinding individual layers from a controller.
Nicer alerts and prompts.
No assets folder required for installation

1.6 - Oct 11, 2017
Expressions allow real-time shape rigs when used in CC2018
1.5.1 - May 11, 2017
-Bugs fixed for users running After Effects CS6. EaseBias now works with CS6.
1.5 - Mar 12, 2017
- Brand new UI layout
- Control your joystick interpolations with EaseBias
- Speed up your path shape rigging with the Path Flipper.
- Move your controllers back to their child comps with Move to Child
- Export your animation to html5 with BodyMovin'
1.2.2 - Nov 18, 2016
Fixed a small bug with updating pathshapes in comps with other nested offset precomps.
1.2.1 - Aug 6, 2016
Fixed small bug on first-time registration
Some improved error handling for checking correct installation.
1.2 - Jun 11, 2016
Update PathShapes now updates paths indirectly controlled by selected controller like a path controlled by sliders which are controlled by a joystick.
1.1.1 - Mar 31, 2016
Fixed a bug that prevented joystick rigging in comps with certain frame rates.
1.1 - Mar 15, 2016
Added Path shape rigging. Made inverse posing default for Sliders
1.0.1 - Mar 2, 2016
Fixed some issues with CS6 compatibility
1.0 - Feb 9, 2016
Initial release