Layer Selector Toolbar
Compatibility After Effects

Please check exact version compatibility under the "COMPATIBILITY" tab below
Layer Selector Toolbar is a compact toolbar for After Effects that makes it easy to select layers by property — without tagging or color coding.
Features
Simply select the comp you're working on, then click to select a layer group: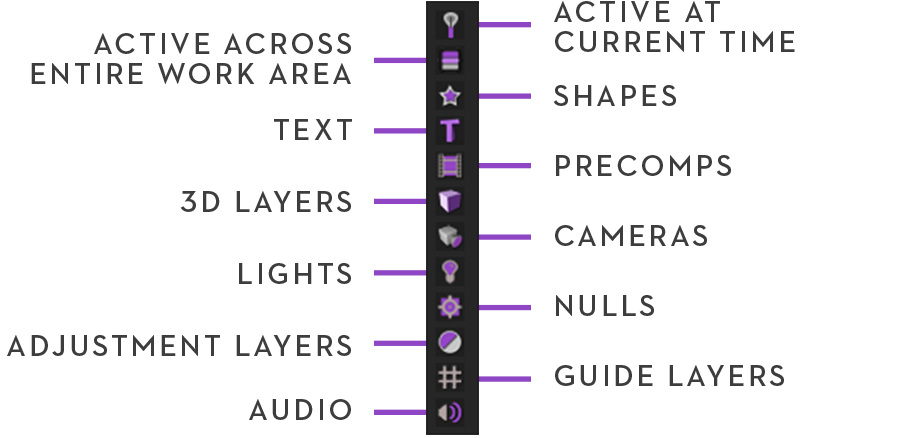 Click to select layers by type.
Shift-click to select the inverse.
Ctrl/Cmd-click to limit selection to layers active at the current time.
Ctrl/Cmd+Shift-click to select everything except layers of that type active at the current time (inverts Ctrl/Cmd-click).
Installation
Layer Selector Toolbar can run as both a dockable panel and floating window, and will automatically change its layout to fit your workspace.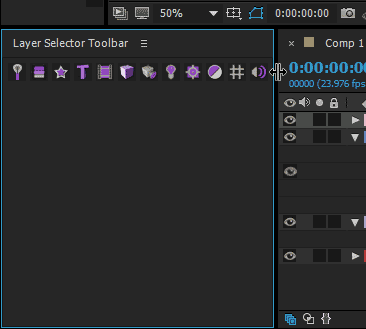 To install as a dockable toolbar, unzip the downloaded file and drop Layer Selector Toolbar.jsxbin into After Effects' Scripts/ScriptUI Panels folder. Restart After Effects, make sure "Allow Scripts to Write Files and Access Network" is enabled in your preferences, then launch Layer Selector Toolbar from the Window menu.
The script can also be run directly from the main Scripts folder or via File > Run Script File, in which case it will appear as a floating window. Note: this window cannot be docked.
Layer Selector Toolbar is compatible with AE CS4+ on Windows and OSX.
Release History
Version 1.7 (1/2/2016): Added ability to select lights, responsive panel layout with updated button order.
Version 1.5: Added Control/Command-click to limit selection.
Version 1.0: Initial release.
| | |
| --- | --- |
| After Effects | CC 2015, CC 2014, CC, CS6, CS5.5, CS5, CS4 |
1.7 (Current version) - Dec 24, 2015
Now a responsive, resizable panel. Added ability to select lights.
1.5 - Feb 13, 2015
Added ctrl/cmd-click and ctrl/cmd+shift-click options to limit selection to active layers
1.0 - Sep 30, 2014
Initial release