Take This
Compatibility After Effects

Please check exact version compatibility under the "COMPATIBILITY" tab below
Take This is a take system for After Effects layer transforms. Anything you can do in a layer's Transform menu, you can save for later — even expressions.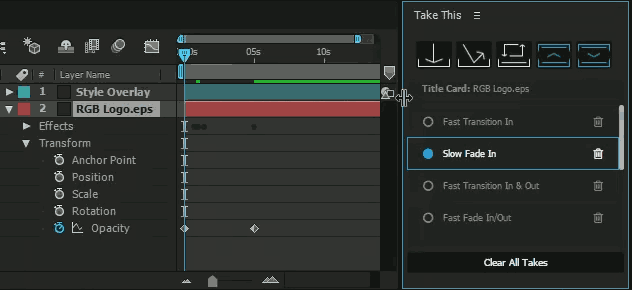 Store, sort, swap and step through different versions of your animations.
Writing complex expressions? Save old versions right on the same layer for easy reference. Audition lighting rigs and camera moves. Keep everything inside a single project. Label takes so it's easy to find the one you like, the one the clients like, and the one the clients liked last week and are going to like again tomorrow.
The smart UI keeps track of your takes for you so you don't have to go digging through the effects panel.
IMPORTANT: Take This is an HTML5 extension and requires CC2015.
Features
Store and Update Takes
Take This will store all layer transform data (Anchor Point, Position, Scale, Rotation, Transparency, and/or Point of Interest), as well as any expressions applied to these properties, inside a custom effect. It also notes whether the layer is currently a 3D layer or has separated position dimensions. For cameras and lights, which cannot have effects themselves, it stores the data on a separate null layer.
Store and Reset: Save a new take, then reset layer transforms to their defaults. Take is not set to active.

Store and Continue: Save a new active take, retaining all transform keyframes and data.
Update Active Take: Replace the currently-active take with your current transforms. (Will not reset transforms after update.)
Step Through Takes
Select one or more layers, then navigate stored takes via the blue toolbar buttons.

Previous Take: Activate the previously-stored take, replacing any existing transforms. If nothing's currently active, selects the last take in the list.

Next Take: Activate the next stored take, replacing any existing transforms. If no takes are currently active, selects the first take in the list.
Manage Stored Takes
Takes stored on your currently-selected layer (or its remote storage layer, if it's a camera or light) are listed in the extension panel. The currently active take, if any, is highlighted in blue.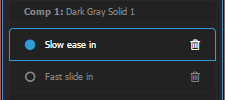 Click on the circle next to the take name to activate it.
Click on the take name to rename the take.
Click on the trash icon to delete the take.


Clear All Takes: Click the "Clear All Takes" button at the bottom of the panel to remove all takes from all currently selected layers. Will not erase your current transform settings, only the stored takes.
| | |
| --- | --- |
| After Effects | 2020, CC 2019, CC 2018, CC 2017, CC 2015.3, CC 2015 |
1.0.1 (Current version) - Nov 6, 2020
Added macOS Catalina and latest After Effects support
1.0 - Jan 26, 2016
Initial Release