Lockdown
Compatibility After Effects

Please check exact version compatibility under the "COMPATIBILITY" tab below
Lockdown is a revolutionary new plug-in that allows you to track warping surfaces inside After Effects.
It's free to use until June 7th, follow the link below to get a time-limited license.
To get free time-limited licenses of both Lockdown and Composite Brush, please fill out this form. Please get started with the watermarked trial build (Green 'Try' button on the top right of this page), and the temp license will get to you within 1 day. To activate the license which removes the black watermark grid, press "Register" at the top of the Plugin in the Effects Control Window, and paste in your code, then press "activate". We've extended this offer because in most parts of the world, quarantine has lasted longer than April. If your April license has already expired, please fill out the above form and submit again. After you receive your new license, go to the Plugin, press "Register", and de-activate the current license. Then paste in the new license and press "activate". Reach out with a help ticket for questions and feedback. You will automatically be sent two separate emails, one for Lockdown, one for Composite Brush, so please pay attention to which license is which, since they are not interchangeable.
Please note that 500 Externalized Points are no longer supported in Lockdown 1.4. We only allow 4 because we recently discovered 500 would effect click and drag responsiveness. If you have 1.3 installed, please internalize all points for all Lockdown instances, then save your project before installing Lockdown 1.4.
Reactions
The frequency with which I say this may be increasing. Nonetheless, THE! GAME! HAS! CHANGED!
I have had to do this manually for too long, and I love that a computer can do it now.

— Evan Abrams (@ECAbrams) September 30, 2019
Lockdown is another class of tool. I strongly feel it could convert entire studios and pipelines from Nuke/Flame to AE


- Teddy Gage - Shotgun Studios
Whattawhaaaat?!!!

— Willem (@grumpnl) September 30, 2019
The game has been changed! I REPEAT! THE GAME HAS BEEN CHANGED! https://t.co/hbwz6npr0f

— IAMJamina™ (@iamjamina) September 30, 2019
Man no more need to do this by hand... thank godddddd https://t.co/XJTmNxdOUB

— Agustin Eguia (@agustineguia) September 30, 2019
NOTE: Please try the free demo by clicking on the green TRY button above before purchasing to make sure it works for your purposes. Please note that we only officially support the latest version of After Effects on the Creative Cloud.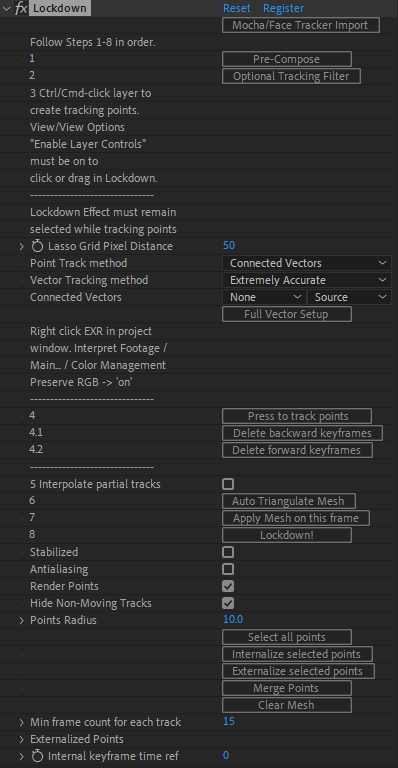 Controls
To use the Plug-in, please follow the instructions labeled 1-8.
1) Pre-Compose
The layer that Lockdown is applied to, and the Composition that layer is in, must have the same resolution and framerate for Lockdown to work. This button is optional, but it's recommended that you use it to pre-compose your layer into a composition that matches the layer's resolution and framerate, and work inside that pre-comp.
2) Optional Tracking Filter
This optional button applies effects that sometimes allow our tracker and Mocha to better identify textures. It's probably not necessary when using Vector Tracking. It's basically an edge detect with a lot of contrast. You should be in 16 or 32-bit mode when using this filter. Running a denoiser on the original footage, and again on the final result also improves trackability. This is great for a shot where lighting is changing, because it brings out details in cracks and surfaces, and tends to ignore larger gradients. You'll want to delete these effects once tracking is done, after Step 5.
3) Generate Points
You can create points individually, or within a lasso region. Please note the After Effects UI MUST BE ON to do this or any other interaction with Lockdown. If you can't see your masks, anchor points, bezier handles, etc... Your After Effects Effect UI is off. Turn it back on.
Lasso Grid Pixel Distance: This is how far apart the points of the lasso grid are. It's generally recommended to use the largest number you can, therefor having the smallest amount of points.

UI Toggle: Control/Apple+Shift+H

Create Point: Control/Apple + Click

Create a lasso region of points: Control/Apple Click and drag around an area.

Delete single point: Option/alt+Click

Delete within a lasso region: Option/alt+Click and drag around the points.

Select multiple points: Click and drag around them
or shift-click to add to selection.
Add extension points: Ctrl/CMD+shift+option/alt+click

Click 'nothing' to de-select

Please note that you can only draw points on one frame at a time. If you draw points on frame 1, then go to frame 20, and create a new point, all frames will be re-located to frame 20. (This was not an intentional design choice, we hope to someday change this.)
Mocha/Face Tracker Import
This button will search the layer Lockdown is on. If it finds exposed Mocha points, or Face Tracker effect points, it will import them into Lockdown as externalized points. It is at the top of the Plug-in.
4) Track Points
Point Track Method: Three options for tracking points.
Accurate: This does well on most shots, with average accuracy and speed.
Fast: This mode is very fast, but only works on the simplest of shots. It is going to be depricated, we'd recommend not using it.
Connected Vectors: This is by far the most accurate method for tracking points, and we highly recommend using it every time. You will be required to render an EXR pass with your footage, which contains tracking vectors. There are three modes. Extremely Accurate is very slow to render the EXR pass, but easily the best. Accurate provides some middle ground, however we would recommend using "Extremely Accurate". Fast mode is very very fast, and is useful on simple shots. After the EXR pass is generated, tracking the points will be VERY fast because it's merely pushing points along the vectors, not actually doing any heavy tracking.
Full Vector Setup: This script will duplicate your layer, and apply the "Generate Vectors Plugin" to it, with the Vector Tracking Method above. It will set these motion vectors to render, and after the render, is set to replace the very slow rendering composition with a very fast reading EXR pass. You must interpret the EXR pass to "Preserve RGB", or it will not work.
Press to Track Points
This takes all the points in the step above and attempts to track them to the footage. You MUST keep the Lockdown Effect selected while tracking, with After Effects up and activated. Sorry for the inconvenience, again, this was not an intentional design choice, but a limitation of our first version.

After your first round of tracking, we'd recommend watching your footage very closely. You may need to add more tracks. When a track is not visible, that means it has no keyframes on that frame. You may choose to go back to step 3 and add more tracking points, then press this button again to add these new points to the track. To edit tracks manually, please check out the sections on "Internalize Selected Points" and "Externalize Selected Points".
4.1) Delete backward keyframes
For the selected keyframes, delete all keyframes earlier in time. Useful for quickly cleaning tracks.
4.2) Delete forward keyframes
For the selected keyframes, delete all keyframes later in time.
5) Interpolate Partial Tracks
This button is necessary 99% of the time. Let's say you have a shot that's 100 frames long. You have a handful of tracks at the beginning that all die off (contain no keyframe data) after the first 60 frames, so the range is 1-60. You also have tracked points from the end of the shot, that are from the range 40-100. Your two sets of tracks overlap between frames 40-60. By pressing this button, at the time at which any tracks are "dead" and having no keyframes, they will find "living" tracks around them and follow their motions. So even if a track does not live for the entire length of the shot, it can follow your surface VERY accurately by piggybacking on the tracks later in the shot. This solves the problem of tracks just sitting entirely still when they die, and causing parts of your mesh to freeze. The motion from interpolation is represented by keyframes, so in the previous example, all of your keyframe tracks would now show keyframes from the range 1-100, rather than their previous ranges. This interpolation can be toggled on and off, deleting the "interpolated" keyframes as many times as you'd like. The only limitation to be aware of is this works best with "internalized" keyframes. If you're using this option with "externalized" keyframes, you run the risk of the interpolation being baked into the keyframe tracks permanently. It's recommended that all tracks are always internalized when using this option. If you find yourself deleting bad points, or adding new points, you should toggle this option off to delete the previous set of interpolated keys, and then on again to re-generate new interpolation based on your hand cleaned tracks.
6) Generating a mesh and "Auto Triangulate Mesh"
Create Mesh Edge: To manually connect two TRACKED points, select one, then Control/Command + Shift + click another point.
Lockdown can only render quads and triangles. Green lines represent the borders of Quads and Triangles, white lines represent lines that are part of incomplete geometry and not contributing to the mesh. There is no concept of "faces" in Lockdown with which the user can interact. Faces are determined by edge connections.

Delete edge: Option/Alt+Click

Auto Triangulate Mesh: Press the button. Please note that quads often render smoother than triangles. Manually drawing a mesh into quads can often provide better results. One easy way to compensate for this, however, is to have MANY dense tracking points, in which triangles will look great.
7) Apply Mesh on this frame
This button takes the current frame and determines that this is the hero frame you wish to draw on. Lockdown now stabilizes the entire video to this frame. This can be undone and re-done over and over and over again without consequence by pressing this button. It's recommended to "Apply Mesh" on a frame in which your tracked object is largest, or flattest towards the camera so it's easiest to paint on.

At this point you should watch your stabilized composition very carefully. If you see any areas sliding, that means you didn't put enough tracking markers on them. You can press "Apply Mesh" again to clear your stabilization. Create some new tracking points, re-toggle "interpolate partial tracks", then connect these new points to your mesh as described in step 6. When you press "Apply Mesh" again, you will be back to where you just were, but now with new tracking points contributing to stabilization. One last thing to keep in mind, when the mesh is "applied" it only stabilizes within the bounds of the existing trackers. so for example, if you only put tracking markers on a persons face in your shot, when you "apply" the mesh, only the face will be visible, and the body and other areas without geometry on them will be Alpha-0 transparent.
8) Lockdown!
Pressing this button will pre-compose this layer for you, with the stabilized video inside. It will also create a freeze-frame guide layer of the frame chosen from Step 7, so it's easy to remember which frame was your hero frame, the frame that you should be painting on. It also creates a background for your main comp, which your stabilized/tracked composition sits on. It essentially automatically completes your compositing setup with compositions and layers in After Effects.
When this process is complete, you'll see no indicator in the render that anything is tracking. You have to go into the stabilized comp, and put in some text. Then you can tab back out, and see how well your text tracks.
Please note that the Lockdown process can take anywhere from a few seconds, to a few minutes, depending on how heavy the shot is. Don't touch anything while it's working. The bottleneck that causes the delay is the copying and pasting of the dense keyframe tracking data. We apologize for this inconvenience, just know that the software hasn't crashed if you get the spinning beachball of death or hourglass.
Advanced Controls
Stabilized
This is automatically set by the Plug-in and script, you should never have to think about it. However, for advanced users, it simply toggles whether the mesh is stabilized or moved. Useful if you change a few tracking points on your stabilized comp, then want to copy and paste your Lockdown effect to your un-stabilized comp. You can just paste then toggle Stabilized to off.
Antialiasing
This renders points, lines, and edges with anti-aliasing. It's a tiny bit slower to render, it's usually not necessary to have on.
Render Points
This shows and hides your points and mesh. The Plugin will turn this off when you apply the mesh, it's purely a feature for checking the integrity of your tracking points, and the shape of your mesh.
Hide non-moving tracks
By default, when a track is "dead" meaning it's out of keyframe data, it will go invisible, when this checkbox is on. If it has any keyframes at all on it, including the interpolated keys generated from the 5 buttons above, the keys will render.
Point Radius
Sized in Pixels, how large the points render as part of the layer.
Select All Points
Selects all points, both externalized, and internalized, in the shot. Most of the time this button is used, it's to select everything, then internalize all points before mesh building.
Internalize Selected Points
This puts all the points INSIDE the plug-in away, from your view. This is going to make every step of working with Lockdown faster. Tracked points are internalized by default.
Externalize Selected Points
This takes your selected points, and exposes them as normal position keyframes at the bottom of the Lockdown Plug-in, under the "Externalized Points" dropdown. You should only ever externalize points when you notice errors in the track and want to modify them. Whenever you're done editing points and want to start building a mesh, re-internalize them. It's not recommended to use expressions with these points, or connect them to outside rigging, at this point it's something we haven't tested. We are currently allowing externalized points to be used as part of a mesh with the hopes that eventually this will become advantageous, but please just internalize your points in all normal situations.
Merge Points
This combines two tracks into a single track. If you track someone's eyeball on the first half a video, then the track goes off because of a blink. Then you track the eye on the back half of the video up to the same blink. This feature is how you would merge those two points. It's recommended that you delete any keyframes for both tracks that are not centered perfectly on target. Then choose the first track at the frame you'd like to blend from, and choose the second track on the frame you'd like to blend from, and press merge tracks. You'll notice both points turn red over the blend area. On the frames they are yellow, they will not be blended/merged.
Clear Mesh
This removes all geometry so you can attempt triangulation, or manual construction, on another frame. This button also turns the rendered points back on so you can visually re-assess your track.
Min frame count for each track
This control applies to the Fast Point Track Method only, and will be deprecated soon.
Externalized Points
You are given 4 total points which you can manually edit within the typical After Effects graph editor. This used to be 500, but we found that it was causing significant slow down with user interaction speeds.
To get points in from Mocha, you can paste the four corner position data into the externalized points. Upon pasting, an externalized point will be created. Again, please internalize these as soon as possible.
Internal Keyframe time ref
This is a reference keyframe. A big problem with Lockdown's internalized keyframes is that they are 'oblivious' to what timecode they should appear at. Whenever you track, Lockdown takes this keyframe, and places it at the in-point of the shot. All the internal keyframes look at this keyframe and say "I should appear x frames after this reference keyframe" in order to stay in sync with the rest of the project. Please note that you should never have to touch or think about this parameter if you use the script and follow the steps from 1-9. The most common place this may be useful is if you're conforming color footage, and the timecode changes on a clip when you do a footage swap. For a simple example:
You track some raw footage which is 45 seconds long. Your in-point is at 30 seconds in. When you track, Lockdown places the "internal keyframe time ref" here, at your in-point. Now you receive some new footage back from a colorist, but it's only 10 seconds long. If you paste Lockdown to the color footage, the timecode isn't the same, so Lockdown doesn't know which frames it's keyframes should be on. You can find the same exact frame in the color footage, and slide this "internal keyframe time ref" to its position, and now the tracking will match exactly, even though the timecode is different.
FAQ
How do I install Lockdown 1.4? Where is the .AOM template file it's requesting?
When installing GV.aom, I get an error "There were 6 templates that were not loaded...". This is a harmless error that causes no problems. Our .aom file includes the 6 default Ae render templates, and we couldn't figure out how to get rid of them. That message is just saying it notices there would be duplicates, and rejects the new ones.
How do I get rid of the grid watermark?
When you buy the Plugin (or get a temp license), you'll get access to a code that looks something like this: VRL*YOUR*NAME*LOTSOFLETTERSANDNUMBERS
Apply the Plug-in to a layer, then at the top of Lockdown, press "register". Paste this code in, and press activate. The watermark will still be there. To clear it, go to the After Effects Menu "Edit/Purge/All Memory & Disk Cache". This forces Lockdown to re-render, this time without any grid.
"Unable to execute script at line 1 Error"
This is the result of a bad install, because Lockdown 1.4 shouldn't have a JSXBIN script file at all. Please clean up your installation with this video, then run Lockdown using this tutorial.
Sometimes I get dark edges on my composition
Please either shut off your stabilized footage layer inside the stabilized pre-comp, or add a 4 pixel simple choker to it. Effect/Matte/Simple Choker. This video shows how to solve the problem. Fixing this is somewhere on our to-do list, but honestly it's very low priority because a comp fix is so easy. Sorry for the inconvenience, we figured you would rather we focus on faster and more accurate tracking.
How do I get motion blur on my shot with Lockdown?
Please use the effect "CC Force Motion Blur" after Lockdown. Shut off "override shutter". Turn motion blur on for the layer, and in the composition. In the composition settings, make sure the shutter phase is (shutter angle * -.5). CC Force Motion Blur with Lockdown.
No points track when I track from an EXR pass
This video covers all the problems we've seen from users so far: https://youtu.be/_Uc-bErEwUg
In summary:

Make sure your project is set to 32 bit mode at all times of the process.
Keep to the default After Effects project file with default colorspace settings.
Make sure your composition background color is Black when rendering the vectors.
Make sure to "Preserve RGB" on the vectors when importing.
Ensure you dont' have a variable framerate video clip.
nsure your composition is the same framerate and resolution as your video, with no position or scale offsets.
My points slowly side to the bottom left or top right at a steady pace. They are not tracking the object.
There is a bug where when the composition window is at half resolution, or anything other than full resolution, Lockdown's Vector Tracker will push the pixels double the distance because it's seeing the resolution as half of what the vectors are written to. Please set the Composition Window to Full resolution, and shut off fast previews, Adaptive Resolution, etc... The place points and track again.
How do I get tracking data into Lockdown from Mocha?
This new tutorial explains an easier way to import points from Mocha. Watch it here at 2:28. (Please note that in Lockdown 1.4, there are only 4 externalized tracking points. You must internalize the mocha points after every import.)
How do I extend my mesh to wider than I was able to track?
Please use the mesh extension hotkey, Ctrl(PC)/Cmd(Mac)+shift+alt+click. Check out this video.
I want to make a mesh larger than my actual video, that extends off my frame. Can I do that?
No. Lockdown is limited to the bounds of the composition. But there is a relatively easy workaround. Let's say you have 1920x1080 footage. After running out 1) pre-compose script, go into that composition. Set the resolution of the composition much higher, perhaps 3000x2000. Now take that layer (delete the Lockdown instance on it.) and pre-compose that layer "moving all attributes". Now place Lockdown on that composition, which is 3000x2000. You can now track THAT composition. If you don't do this correctly, things will go bad very quickly.
I'm having installation issues on OS X Catalina or am getting a (25:3) error
Please download Lockdown 1.3.0 or later.
How do I create a log file?
Please watch this video. Log files contain a record you can send to us, that tells us basically everything that happened since you opened Lockdown, until you closed it. It makes it much easier for us to find bugs. Please make sure to delete the log folder after sending us the log, because the log file will get very very large over time if you keep the folder. Basically, if the folder exists, the log file is created and written to. If not, the log file is not created or written to. So you don't want the log folder to exist for any longer than it needs to be.
I have a problem not listed here, can you help me?
We can sure try. All the help tickets for this product regarding technique are answered us, the creators of Lockdown. If you send us footage that poses unique challenges from every other video listed above, we can test it. That being said, we have a policy to ONLY send back screen recordings of your project for guidance, we will never send back any project files, no exceptions. We answer help tickets to assist you, and to improve Lockdown, but the help ticket systems is not a way for us to complete your projects. Please make sure you have all necessary permissions before sending a project file. You can open a help ticket here.
| | |
| --- | --- |
| After Effects | 2020, CC 2019 |
1.4.2 (Current version) - May 18, 2020
18_05_2020
1.4.2
-Fixed a bug that would cause points to not render on some AMD graphics cards, particularly those on Mac Pro systems.
-Put a clamp on colors in 32 bit mode, to prevent over-bright or over-dark artifacts.
-Removed "min frame count for each track" parameter, which was useless with the newly improved tracker.
- moved "merge points" button to a more logical location next to tracking buttons.
- Removed anti-aliasing toggle. Recent performance improvements made it reasonable to keep it always on, and never need to turn it off.
- Changed the point creation lasso color to blue. This helps users know if the control/cmd key is pressed when lassoing.
1.4.1 - Apr 30, 2020
30_04_2020 1.4.1
- Greatly improved interactive speeds
- Added "alt-shift drag" delete edge tool
- Added Delete Adjustment Point button
- Changed adjustment point keyframes to render as crosshairs, and as empty circles when near a keyframe in time.
- now internalizes the entire track when importing from Mocha, to make room for further mocha imports.
- Sets and adjustment point keyframe anytime a point is selected or tracked.
- Fixed "Something went wrong" precompose error.
- Added "bake keyframes button"
- Set "min frame count" parameter to 0 by default, (meaning infinite).
- Fixed a bug in which changing one instance of Lockdown may make temporary visual changes during the duration of the click and drag to other instances of Lockdown.

1.4.0 - Apr 6, 2020
[27-03-2020] - 1.4.0
[New features]
- Added vector tracking
- Added click and drag to adjust track points
- Added lasso tool to create and delete points

[Improvements]
- Improved overall performance with many points.
- Prevents points from being created too close to each other.
- Added possibility to work with temporary licenses
- Installation of Lockdown.jsxbin is not needed anymore, all the functionality is moved inside the plugin.
-Reduced Externalized point count from 500 down to 4. This was to increase interactive speeds.

[Bugfix]
- Fixed some cases when new points could not be automatically triangulated to the existing mesh

1.3.2 - Mar 19, 2020
19_03_2020
-licensing updates
1.3.1 - Mar 11, 2020
11_03_2020
[Version 1.3.1]
Fixed an issue where you may get the error
"Cannot find entry point" on versions lower than OS X Catalina.
1.3.0 - Feb 25, 2020
[Version 1.3.0]
Added a new default tracking mode "Accurate". This mode significantly improves automatic tracking, and makes the "option tracking filter" no longer necessary.
Renamed the old tracker "Fast", under Tracking Engine.
Moved all point and line rendering to the render thread, burned into the image. This is so your points and lines remain strictly in sync with your footage, so it's easier to tell which points are tracking well, and which aren't.
Added "merge tracks" button.
Added Anti-aliasing checkbox for geometry edges, points, and lines.
Made minor text updates to the Plug-in in the Effects Control Window.
When a stabilized mesh is 'applied' points will automatically not render. This is because you likely only want to see points while tracking them.
Updated Mac Catalina notarization.
[BugFixes]
Fixed a bug in which an externalized point keyframe may be off on the first frame.
Fixed a bug in which changing the in or out point of a shot may de-sync tracking points.


1.2.2 - Feb 23, 2020
- The import button is now able to import keyframes from the After Effects built-in Motion Tracker. (the Attach point parameter)

- The import button will now work with non-English versions of After Effects.
- The Plugin is now capable of creating log files with helpful debugging information.
1.2.1 - Dec 11, 2019
Updated the Mac Plug-in to ensure compatibility with Catalina.
1.2.0 - Dec 1, 2019
[Version 1.2.0]
Tracks import + bugfixes
[New features]
- Static import keyframes from Mocha and Adobe Face Tracker (Button)
- Trim duplicated keyframes when they are pasted into Lockdown (This makes it so partial Mocha tracks are properly interpolated, when pressing Lockdown's "interpolate partial tracks"

[Bugfixes]
- Pressing Reset will now clear externalized points, truly resetting the Plug-in.
- Triangulate newly added points without any issues.
- Fix triangulation for (mainly) imported keyframes.
1.1.0 - Oct 27, 2019
-Added subpixel accuracy when tracking (to reduce jitter)
-added "Delete backward keyframes" button
-added "Delete forward keyframes" button
-Added hotkey "Ctrl/Cmd-shift-alt/option+click" to create extension points for the mesh
-Increased tracking speed
-Increased some interaction speeds
-Bug fix: Wouldn't render on 8k footage
-Bug fix: Sometimes "interpolate partial tracks" didn't complete fully
-Bug fix: Sometimes triangulation wouldn't work
-Bug fix: Some points couldn't be connected
1.0.0 - Sep 30, 2019
Initial Release