Move in Time
Compatibility After Effects

Please check exact version compatibility under the "COMPATIBILITY" tab below
Move in Time is a dockable palette which kinda mimicks the time ruler of your timeline. As the native timeline can get a bit small - not displaying that much area to navigate, or if you would like to have another time ruler on your other display, give this tiny tool a spin. You can dock it where you like, it will adapt it's display accordingly. Showing the full range of your composition, plus indicating the work area.
You can simply click to the frame where you want to go, use the Left/Right/Up/Down Keys or move/scrub the time ruler - more notes on that below. When you hover over the palette, it will automatically get AE's focus and will claim the directional keys for it's operations. Make sure to click away from the panel, if you need those keys for other actions like moving objects in space.
Key Commands while the Palette is active:
Left / Right Keys: Move backward or forward in time by 1 frame; +Shift by 10 frames; +Alt by 1 second
Up/Down Keys: Move to the start or end of your composition; +shift start/end of the work area
Hit Enter to launch the command "Go to Time..."
Except for the 1 second jumps, all of these are native operations as you know and they will still work as usual as well - Ctrl/Cmd+Left/Right or using Home/End/Page Up/Page Down.
Move in Time works best launched as a ScriptUI Palette, but if you still launch it via File/Scripts, I did implement some additional key overrides to get it to work, but: With the script window being active, other native commands won't work, like j/k to move between keyframes for example. You have to set the focus back to a native AE panel first. This is not the case with the dockable panel: All keys work as expected, except for the Left/Right/Up/Down/Enter, while the panel is active. But as mentioned above, the behaviour is pretty much the same plus having the 1 second jump in addition.

Two Options to Move/Scrub in Time:
Move the slider by dragging the circle: While you drag, just the animated bounding boxes of your selected layers will be displayed.
Hold Ctrl/Cmd while moving the cursor sideways (without(!) clicking): This will force the preview to update as fast as the system can process.
But being honest, scrubbing the native timeline will give you the best refresh rates. On the other hand, using the native
(Ctrl/Cmd+) Left/Right and holding them, is always a good alternative to scrubbing. [Note: To improve performance, the slider / the circle won't follow along while doing the force scrubbing.]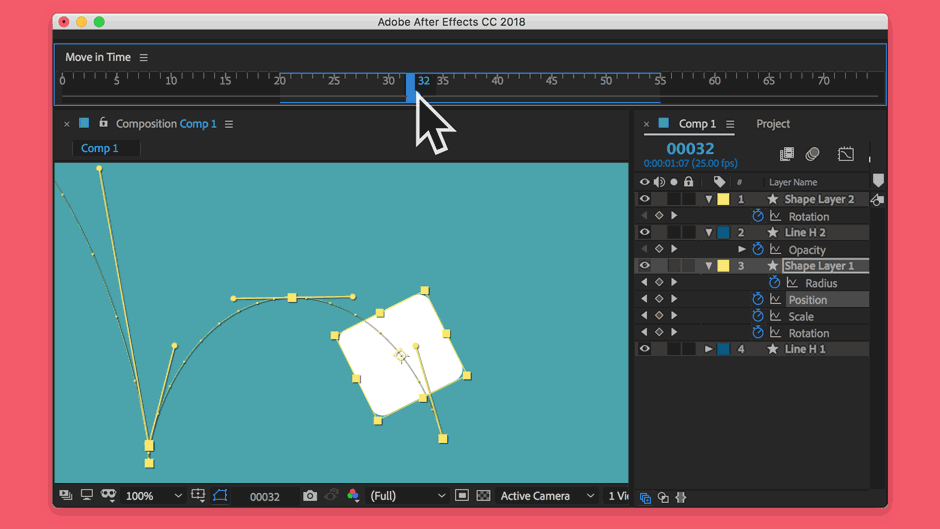 | | |
| --- | --- |
| After Effects | CC 2018, CC 2017, CC 2015.3, CC 2015, CC 2014, CC |
1.0 (Current version) - May 14, 2018
Initial Release