ninebysixteen
Compatibility After Effects

Please check exact version compatibility under the "COMPATIBILITY" tab below
THIS PRODUCT HAS BEEN DISCONTINUED
Social media content is becoming more and more
part of a designer's workload.
Designers are not only assumed to have knowledge of the social media landscape, but also work faster.
The designers who had to adapt ended up hacking together Photoshop, Figma or Sketch mockups of different social placement to get their designs approved.
Ninebysixteen was built to help designers work faster by implementing social media comp presets, safe-areas and a fully customizable Instagram App UI overlay.
Features
Instagram Native UI Mockup

Entirely built using After Effects native tools

Fully customizable to the smallest detail

Remove any dependency on Photoshop freebie mock-ups

Assess your design more accurately & give your clients an accurate idea of the design by seeing exactly what your audience will see
Title-safe overlays for 9:16 videos that enables designers to create designs without worrying about having key design elements covered by the Instagram App.
Industry standard composition presets for:

9:16 (1080x1920)

16:9 (1920x1080)

1:1 (1080x1080)

4:5 (1080x1350)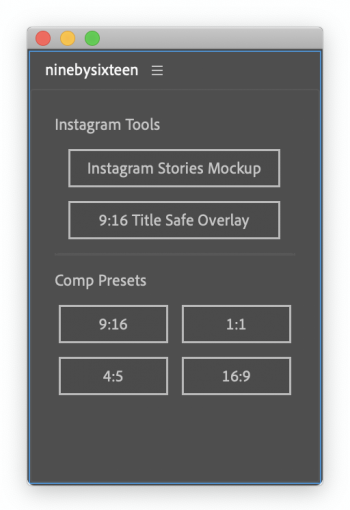 Feedback
This is a genius idea
- Team_Rocket_Landed, /r/AfterEffects Reddit user
Amazing! I love it.
- MlleDanaee, /r/AfterEffects Reddit user
What a great help that will be. Really interested.
- freakalassie, /r/AfterEffects Reddit user
sweet! Love it.
- ruff3k, /r/AfterEffects Reddit user
| | |
| --- | --- |
| After Effects | 2020, CC 2019, CC 2018 |
1.0 (Current version) - May 12, 2020
Initial release
1.0 - May 10, 2020
Initial release