Stretch-it
Compatibility After Effects

Please check exact version compatibility under the "COMPATIBILITY" tab below
I created this tool because I've always liked the contrast between overstretched and condensed letters in a single word. I used to make the effect in a number of ways, but all of them were time-consuming as it couldn't be done with an editable text layer. I'd go far in the treatment, then if I changed my mind on the chosen letter, the word itself, or the font, I simply had to start from the beginning: Create a new text layer, outline the text and so on... this tool allows you to create this in one click!
Special Intro 25% Off until August 8, 2018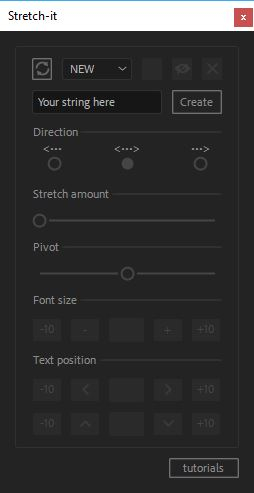 Key features:
- Stretch any string of text in one given point.
- Move horizontally the Pivot point
- Change alignment: central, left or right
- Scale up and down your text Font size
- Move the text in 3 dimensions
- Amend your string after your client's last minute change of mind
- Hide/show your text in the composition
| | |
| --- | --- |
| After Effects | CC 2018, CC 2017, CC 2015.3, CC 2015, CC 2014, CC |
1.1 (Current version) - Aug 12, 2018
- Resolved issue when AE language is different from English
- Corrected misspelling on a WARNING message
1.0 - Aug 1, 2018
Initial release