Volna 2
Compatibility After Effects

Please check exact version compatibility under the "COMPATIBILITY" tab below
Volna 2
Volna is an advanced Strokes Plugin, it uses masks to draw strokes. It uses one or two masks and blends them into a new shape with multiple strokes. Each stroke can be filled with a gradient, distorted with perlin noise or a sine function. Strokes thickness can be adjusted with a ramp control. Strokes can be lines or points. Strokes ends can have parametric arrows. A lot of randomizing controls help add a unique look.
Features
Parametric Arrows

Arrows at the ends of the lines can be fine-tuned and animated individually.






Gradient Control

Custom new gradient control with unlimited color points and three interpolation modes.



Thickness Ramp

Thickness along paths can now be set and animated with a new ramp control.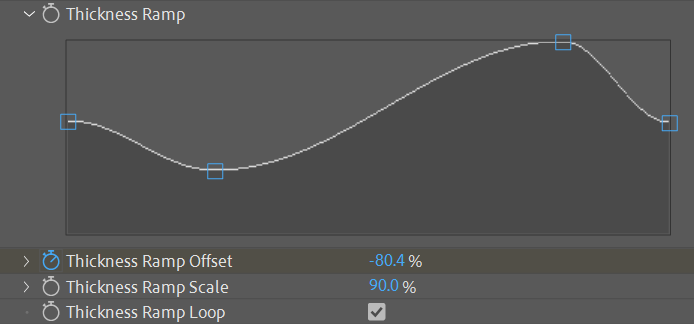 Cross-Lines Gradient

Cross-lines gradient can be added or multiplied over strokes. Can be offset and scaled.
Points Mode
Random rotation and offset points.
Rotation Along Path

Points can follow the path.


Rotation Noise

Three Noise modes and Rotation Ramp to get more control.


Noise Distortion
Parameters such as noise amplitude, frequency, offsets, noise evolution and lines offset allow infinite customization
Noise Ramp

Ramp can be defined in segments and offset to affect noise.


Audio Driven Noise

Sound can affect amplitude, frequency, offsets or noise evolution.


Base Points Density Ramp
Remap points density to compensate blending distortion.
Artistic Strokes Styles
Alpha Noise, Ramp and Sine functions allow you to create various effects:
Rough stroke, soft chalk style or dashes.

User's Guide
Volna 2 user interface description and samples are available here: irrealix.com/documentation.
Upgrade Notice
If you purchased Volna 1 after September 29, 2021, you can upgrade for free. If you purchased it before the upgrade is $29. Simply login to the same account and the upgrade price will be automatically applied. If you need assistance please open a support ticket.
| | |
| --- | --- |
| After Effects | 2023, 2022, 2021, 2020, CC 2019, CC 2018, CC 2017, CC 2015.3, CC 2015, CC 2014 |
2.4.3 (Current version) - Dec 1, 2022
- fixed crash on close AE for macOS
2.4.2 - Nov 28, 2022
- fixed sprite glitch with multi frame render on macOS
2.4.1 - Nov 25, 2022
- fixed glitch with points noise on ends of path
- added Distortion Across Noise Ramp
2.3 - Oct 21, 2022
- Added Sprites as a new primitives type
2.2 - Oct 12, 2022
- Added new direction mode: Across Masks
- Added Begin and End Ramp shapes
- Fixed arrows orient on closed masks
2.1.3 - Sep 22, 2022
- Fixed Noise on Mac to be same with PC version
2.1.2 - Aug 16, 2022
- Updated License Framework
2.1.1 - Jul 2, 2022
- fixed Alpha Noise Line Offset for ScreenSpace mode
- fixed Alpha Noise Line Offset for Index mode
2.1a - Jun 21, 2022
-fixed macOS "Couldn't find a main entry point for Volna.plugin ( 48 :: 72)"
2.1 - Jun 15, 2022
- added Noise Loop.
- added Ramp Bezier interpolation mode.
- added Index Noise mode.
2.0.4 - Apr 29, 2022
- Fix floating license bug
2.0.3 - Apr 4, 2022
- Updated Licensing Framework
2.0.2 - Mar 12, 2022
- Added support for Apple Silicon
2.0.1 - Mar 11, 2022
- Fixed 16 bit color mode blending issue.
- Fixed Render-only license issue.
2.0 - Oct 28, 2021
-New Gradient UI
-New Ramp UI
-Cross Gradient
-Lines Gradient
-Lines Opacity Ramp
-Ramp Thickness
-Ramp Distortion Amplitude
-Ramp Alpha Amplitude
-Points Distribution Ramp
-Lines Distribution Ramp
-Points Rotation Noise
-Points Rotation Ramp