Templater Pro Subscription Upfront
Compatibility After Effects

Please check exact version compatibility under the "COMPATIBILITY" tab below
What is Templater Pro?
Extending Templater Rig functionality, Templater Pro offers desktop automation, allowing you to render or replicate batches of versioned compositions using data from your data source.
Important Requirements
To activate Templater Pro on your system, you must have Templater Rig installed and licensed.
Templater Pro activation and license verification requires your system to be online and connected to the Internet.
Submit a help ticket if your organization requires offline activation.
Why Use Templater Pro?
Sometimes you need to customize a master comp many times with data you might receive from a producer or client. Templater Pro handles this gracefully and efficiently. Reasons you might need to use Templater Pro in your studio:
Your clients deliver a spreadsheet of customer information, and they require a quick turnaround for many unique videos based on that data.
Your studio has multiple artists who need to work concurrently on different variations of a master composition.
Your studio must deliver many versions of a promo or interstitial slate for network broadcasts.
You have purchased a Templater-compatible AE project and want to create many unique versions of it quickly based on data from a data source.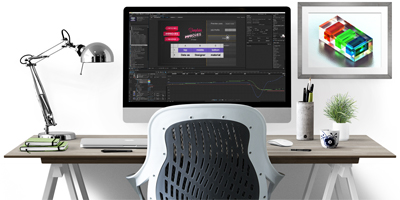 A single license of any Templater edition allows you to install and / or activate that edition on a single machine for one user. Before purchasing, you should verify that Templater will help your workflow by using it in trial mode. The trial lets you explore Templater Rig and Templater Pro features. It adds watermarks to dynamic layers, and allows for up to six previews and renders—comp replication is disabled. Download the trial on the Templater Rig product page.
Compare Edition Features
See the table below to note which features ship with Templater Pro.
| Key Feature | Rig | Pro | Bot |
| --- | --- | --- | --- |
| Use a JSON-formatted text file as a data source | | | |
| Use a Google Sheets document as a data source | | | |
| Use a Tab-separated value file as a data source | | | |
| Incorporate web API feeds into a data source | | | |
| Easily swap out footage sources | | | |
| Use cloud-based footage references | | | |
| Apply layout rules to layers | | | |
| Apply timeline rules to layers | | | |
| Store batch asset reference presets in project files | | | |
| Preview compositions with data | | | |
| Log Templater activity to file | | | |
| Batch replicate compositions | | | |
| Batch render compositions | | | |
| Batch render with Adobe Media Encoder | | | |
| Custom output naming | | | |
| Switch AE projects within the data source | | | |
| Run shell scripts while Templater processes | | | |
| Command-line interface control | | | |
| Version AE projects as a background process | | | |
| Process extremely large data sources | | | |
Subscription Pricing
Templater is a professional grade application—the kind that eliminates the worst of the tedium in post-production. Taking user feedback from the original release, we re-engineered our product line-up to accommodate users in any environment, from independent producers needing a single copy of Templater Rig to those working in studios and organizations running Templater Bot on dedicated server farms. What's more, this new model provides better sustainability for continued support and development.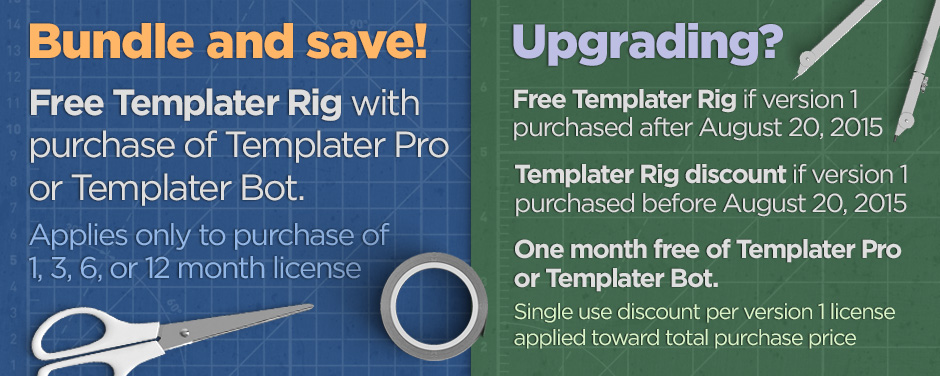 © Copyright 2013–2015 Dataclay, LLC. All rights reserved.
| | |
| --- | --- |
| After Effects | CC 2015.3, CC 2015, CC 2014, CC, CS6, CS5.5, CS5 |