Anchor SNIPER
Compatibility After Effects

Please check exact version compatibility under the "COMPATIBILITY" tab below
Anchor SNIPER is a comprehensive set of tools that allow you to quickly and accurately set the anchor point's location.
MAIN FEATURES
A streamlined UI of simple and intuitive options allowing for 20+ combinations of relocating your anchor point.

Works with multiple layers, treating each of them individually or as a group.

Doesn't interfere with any animations already applied to layers.

An advanced scanning algorithm that detects a layer's actual non-transparent edges, including all applied masks and effects.

Supports all types of layers including Bitmap, Vector, Text, Shape, Video and AE 3D layers.
BASIC USAGE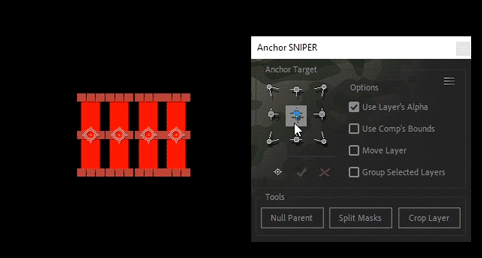 Select one or more layers in a composition.

Set the different options using the four check boxes.

Click on any of the nine Fixed Target buttons to move the anchor point to a fixed location.

Alternatively, click the Custom Target button to relocate the selected layers' anchor point to any desired location.
True Alpha Channel Scanning Algorithm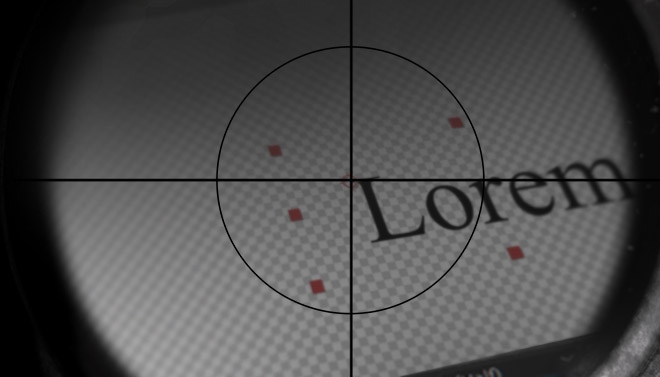 Anchor SNIPER is built upon Video Narco's optimized alpha scanning SNIPER algorithm (soon to be featured in more scripts!) which detects the layer's transparent edges with great speed and accuracy.

This algorithm takes into account all effects and masks affecting the layer's transparency in any way and is used when moving the anchor point to a layer's true edges or when cropping the layer using the Crop Layer tool button.
Additional Included Tools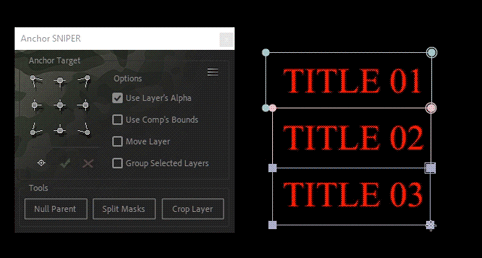 Null Parent Mode - This tool creates a new null parent layer at the selected target instead of moving the anchor point.
Split Layer's Masks - This tool separates a single layer with several masks into several layers, each with a single mask.
Crop Layer - This tool pre-composes a layer and automatically crops the new pre-comp to the layer's visible area (non-transparent pixels).
Optional Compact UI Mode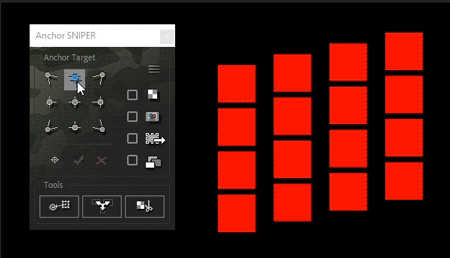 Turn on the Small UI mode in the settings to save precious screen real-estate!

The Tools section can be hidden as well!
| | |
| --- | --- |
| After Effects | 2022, 2021, 2020, CC 2019, CC 2018, CC 2017, CC 2015.3, CC 2015, CC 2014 |
1.1 (Current version) - Jan 21, 2020
Fixes:
- Fixed an issue where the sniper progress bar would hang in rare situations.
- Minor stability improvements.
New Features:
- (CC17 and up) The Move Tool is automatically selected when clicking the Custom Target button.
1.0 - Dec 26, 2019
Initial Release.