CuttanaNir
Compatibility After Effects

Please check exact version compatibility under the "COMPATIBILITY" tab below
What is CuttanaNir?
It contains all the tools you need to create precise write-on animations!

Features
"Text to Shapes"
Separates text into the necessary shapes needed to reveal them one at a time to simulate a write-on effect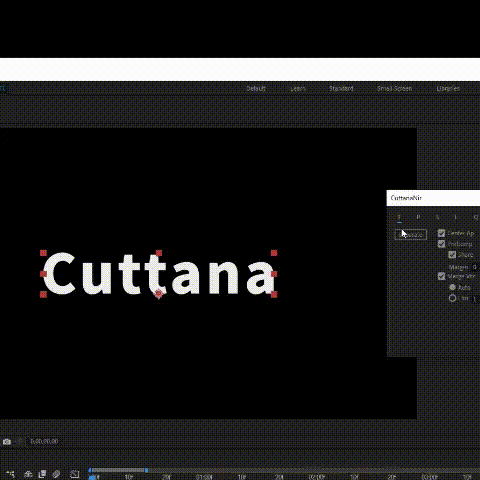 "Cutting & Slicing a path"
The cross-section can be divided into a horizontal "-" or vertical "|" shape by simply selecting four points on the path.
Of course, it is also possible to only choose two points.
You can also select one point and slice the path in either the up, down, left, or right direction.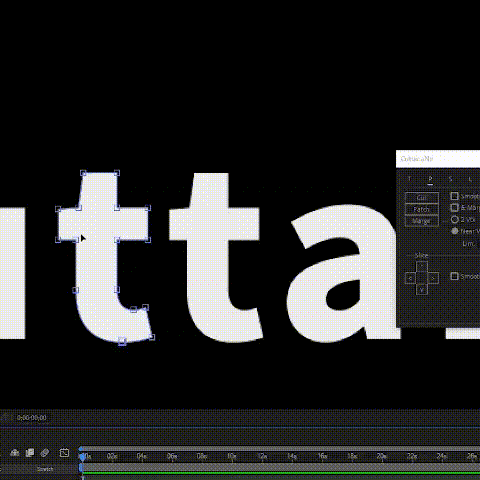 "Path to Shapes"
It separates a layer with multiple paths into multiple layers with one path.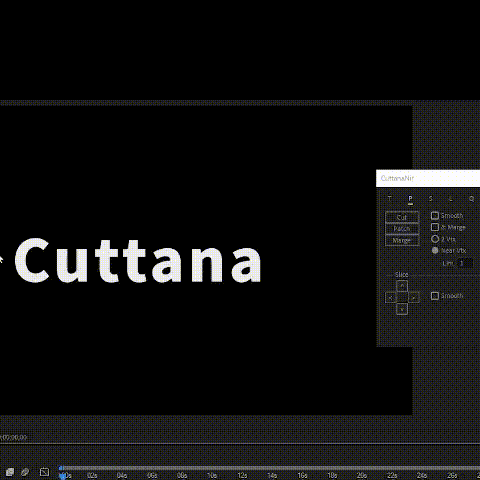 "Creating Animations"
By selecting start and endpoints, an animation will be created automatically.
The animation is created with a "path trimming" expression and "slider control" keyframes.
This allows you to intuitively edit speed and timing.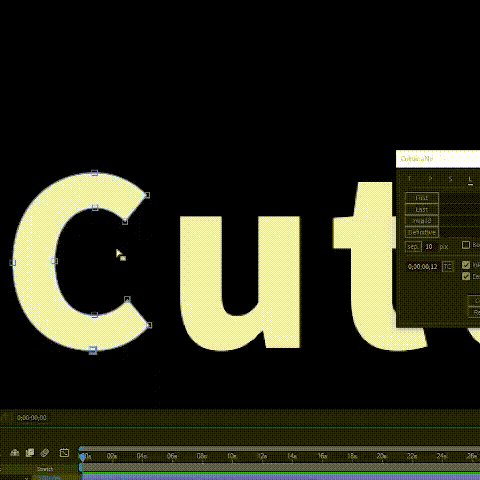 "Sequence layers based on the letter"
Will sequence layers based on the layer name.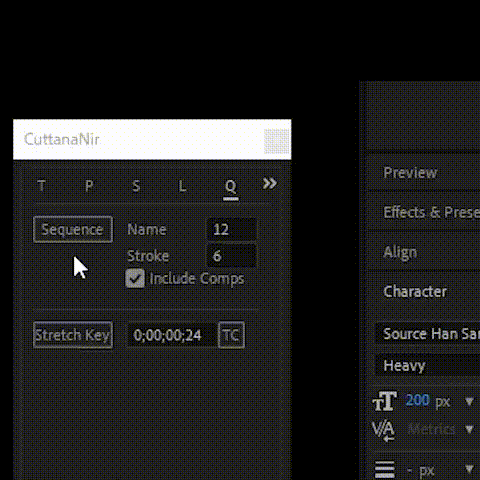 Trial
The trial version is limited to 3 characters that can be divided.
| | |
| --- | --- |
| After Effects | 2023, 2022, 2021, 2020 |
1.31 (Current version) - Feb 14, 2022
Fixed bug with slice
1.3 - Dec 11, 2021
Fixed bug with speed
1.23 - Oct 6, 2021
Fixed bug with global variables
1.22 - Oct 1, 2021
Fixed bug with midpoint ratio
1.21 - Aug 27, 2021
Fixed bug with ShapeUniteKey
1.2 - Aug 24, 2021
Fixed bug with dimensionsSeparated
1.1 - Jul 25, 2021
Fixed bug with sep button
1.1 - Jul 25, 2021
Fixed bug with sep button