Easy Bounce Free & Pro
Compatibility After Effects

Please check exact version compatibility under the "COMPATIBILITY" tab below
Music: Tiny Spaceships by Hans Atom (c) copyright 2019 Licensed under a Creative Commons Attribution (3.0) license Ft: Donnie Ozone.
Workflow
Step 1: Roughly keyframe the motion path you want. Make sure to add a keyframe at each point where the layer will bounce, and one at every peak. No need to worry about the timing, or the exact path from keyframe to keyframe.
Step 2: Click the Easy Bounce button. It will then calculate all the physics parameters needed to create a realistic bouncing movement along the path you've chosen, and change your animation accordingly.
Yes – it's really that easy!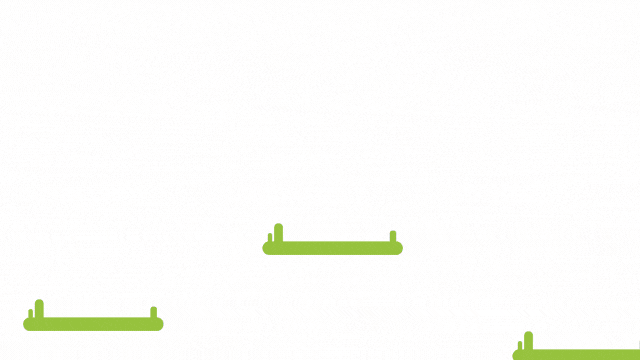 How to Download Free Version
The free version is integrated into the Pro version – just download the trial and enjoy the full functionality of the Pro version for seven days. After this trial period ends, Easy Bounce will turn into the free version (with limited features). You can add a license at any time to converted into the Pro version.
Free vs Pro
In a nutshell, the free version only supports bouncing off the ground, whereas the Pro version also lets you bounce off the walls. The free version can also only change the position keyframes of a layer, whereas the pro version can adjust other keyframes too. Let's say for example that you keyframed the rotation or shape paths – Easy Bounce Pro will also shift these other keyframes to fit the new timing. What's more, the Pro version can squash your layers when they hit the ground and offers advanced options to control gravity, for example.
Free
Pro
Core Features
One Click Workflow
Bounce of Ground
Bounce Of Walls
Retime position keyframes
Retime other keyframes
Options
Gravity Control
Squash
Subframe Accuracy
Workarea Support
Keep Apex Option
Scripting & KBar API
Pricing
Price
$0
$49.99
Scripting and KBar support
Easy Bounce Pro includes a scripting and KBar API. Execute Easy Bounce directly from KBar buttons or remote-execute it inside your own After Effects scripts.
User Reactions
| | |
| --- | --- |
| After Effects | 2024, 2023, 2022, 2021, 2020, CC 2019, CC 2018, CC 2017, CC 2015.3, CC 2015, CC 2014, CC, CS6, CS5.5, CS5, CS4 |
1.0.002 (Current version) - May 9, 2022
- tool does not ask anymore on each launch if free or pro should be used

1.0.001 - May 2, 2022
- fixed compatibility with newer OS versions and added support for time limited licenses

1.0.000 - Nov 11, 2020
initial release