Fast Bokeh Pro
Compatibility After Effects

Please check exact version compatibility under the "COMPATIBILITY" tab below
Fast Bokeh Pro for After Effects
Fast Bokeh Pro is a plug-in for After Effects that creates a smooth Depth of Field bokeh blur using a Depth Map. It's very fast, handles edges properly and easy to use.
Why Another Lens Blur Plug-in?
Fast Bokeh Pro is different from all the other Lens Blur plug-ins out there because of the following features:
Very fast and blur radius independent.
Handles edges properly.

Gaussian/Spherical/Polygonal (HQ) Bokeh Blur
Examples
See the image slider at the bottom of the page for examples. Image(s) Credit: Simon Bronson
Blur Radius Independent
Fast Bokeh's performance only depends on the image size, but not the amount of blur applied, so you can expect a near-constant render performance.
No Hard Edges
Object boundaries are expanded and edges are handled properly as expected. There are still limits because the plug-in doesn't have information about occluded objects in the render, but it does a reasonable job of avoiding hard edges and halos as much as possible.
Iris Shapes
This plug-in creates a smooth Gaussian-like fast blur or Spherical and Polygonal Iris (Hexagon, Pentagon, Octagon and more) shaped Bokeh Blur. Gaussian-like Aperture Blur is lightning quick while Spherical and Polygonal shaped Aperture Blur is very high quality yet still reasonably quick.
Spherical and Polygonal Bokeh Blur while not as fast as Gaussian, is still radius independent and very performant.
Anamorphic Bokeh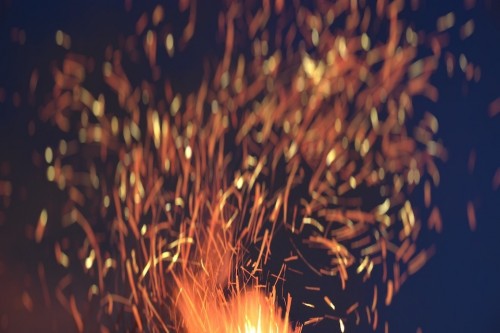 Adjust Iris aspect ratio settings to achieve 'Anamorphic' looking Bokeh Blur.
32 bit colors
32 bpc is not only supported but also recommended for best quality.
Focus Point Selection
Use a point parameter to select the focus point automatically without having to enter the focus depth manually.
HQ Rendering Option
Adjust render quality for Spherical and Polygonal apertures or choose Polygonal HQ option for the best quality.
Linear Color
Supports Linear Color Working Space for photo-realistic compositing
Highlights Adjustment
Adjust the brightness and saturation of the blur highlights to get a more cinematic effect.
Effect Controls
Go to Effects->Rowbyte->Fast Bokeh to apply the effect.
Blur Radius: The radius of the blur.
Depth Map Layer: The layer to use as a Depth Map.
Invert Depth Map: Invert white and dark pixels in the depth map. By default white pixels are background and dark pixels are foreground.
Focus Distance: Set the current focus distance of the Depth Map.
Aperture Type:

Set the Aperture type to Gaussian (Faster) or Spherical (High Quality).

Focus Point: Use a point parameter to set the focus depth instead of adjusting it manually.
Iris Shape: Select the shape of the Iris for Bokeh

Gaussian: Gaussian blur like Iris shape. Fastest of them all.
Spherical: Spherical Iris shape.
Polygon: Polygonal Iris shape with customizable polygon settings.
Polygon (HQ): Highest Quality Polygonal Iris shape with customizable polygon settings.

Iris Aspect Ratio: Change the Iris Aspect Ratio to simulate Anamorphic Lens Bokeh.
Polygon Sides: Adjust the No. of sides in the Polygon Iris shape.
Polygon Rotation: Adjust the angle offset of the aperture in the Polygon Iris shape.
Polygon Curvature: Adjust the curvature of the aperture in the Polygon Iris shape.
Highlights: Adjust the highlights in the image to get a more cinematic effect. For best results use 32bpc.

Threshold: Minimum luminosity threshold required before brightness and saturation are modified for the pixel. Setting the threshold to 0 boosts all non-zero pixels. Setting it to 1.0, only boosts overbright pixels.
Brightness Gain: The amount of energy fed into pixels that are above the threshold. Depending on how bright a pixel is above the threshold, the pixel value is increased in brightness by this relative amount.
Saturation Gain: The amount of color retained in the boosted pixel. Setting it to 0 pushes the boosted colors toward white while setting to 100 attempts to retain as much color as possible. Useful to retain the color of highlights in the image.

Intensity Boost: Boost the color intensity. Useful for large blur radii and transparent images.
Render Quality: Multiple levels of quality. 1x is faster but low on details; 4x is slower but very detailed.
Linear Color Working Space: Produces a result similar to a project set to a linearized working color space. Check this property (or set it from the project settings) to see realistic bokeh effects from your images.
Compatibility
After Effects CS6 and Creative Cloud. Tested with CC 2017, CC 2018, CC 2019, 2020. macOS 10.8 and above or Windows 7 and above.
Important Note
It is recommended to use Depth Maps without anti-aliasing for best results.
Pro Features
Spherical/Polygonal Aperture Bokeh Blur, Highlights, Anamorphic Bokeh, Linear Color Working Space and Quick Focus Point parameters are 'Pro' features and require the plug-in to be registered with a license key. If the plug-in isn't registered and you're using the 'Pro' features, a watermark is rendered. If you're not using 'Pro' features a watermark isn't rendered.
Free Version
The plugin is fully functional except for the 'Pro' features outlined above which will render with a watermark that is removed once you enter a 'Pro' license code which you can purchase by clicking 'Add to Cart' above.
License Options
Choose between Single User and Floating license in the 'License Type' dropdown above the price when adding to cart. Render only licenses can be purchased here.
Installation Instructions
Extract the zip file and run the installers.
Support
If you are having a support issue for any of the products, please contact us for a quick response.
Examples
Image(s) Credit: Simon Bronson
| | |
| --- | --- |
| After Effects | 2020, CC 2019, CC 2018, CC 2017, CC 2015.3, CC 2015, CC 2014, CC, CS6 |
1.4.3b (Current version) - Mar 15, 2021
- Updated installer for 2021
1.4.3 - Sep 18, 2020
- Fixed Color Normalization Issues.
1.4.2 - Jun 2, 2020
- Floating License Compatibility
1.4.1 - May 13, 2020
- Minor Stability Improvements.
1.4.0 - Apr 21, 2020
-Added option to sample focus point depth values every frame or just one frame.
-Minor Performance Improvements.

1.3.1 - Nov 12, 2019
New features:
- Polygonal Iris Shapes (Hexagon, Pentagon, Octagon and more).
- HQ Rendering Option
- Highlights Adjustment w/ Brightness and Saturation
- Anamorphic Bokeh (Iris Aspect Ratios)
- Linear Color Working Space
- Performance Improvements.
1.1.1b - Nov 6, 2019
- 2020 Installer
1.1.1 - Sep 27, 2019
- new 'Intensity Boost' parameter
- small bug fix
1.1.0 - Sep 4, 2019
Initial Release