Helium + HeliumX Lite Free
Compatibility After Effects

Please check exact version compatibility under the "COMPATIBILITY" tab below
Announcing the upcoming release of
HeliumX AI
Free AI image generation plugin for Adobe After Effects.
Generate images locally using the power of your GPU. Powered by Stable Diffusion
We initiated a closed beta program, which will be followed by the official open release to the public. If you would like to join our Beta, pease follow the link and leave your details:
HeliumX Lite
New and FREE 3D plugin for Adobe After Effects
It includes some of the basic tools of the HeliumX 3D toolset - 3D Models, 3D Animated Text , Extruded Shapes, Primitives and Scroll.
It's FREE, download it today.
HeliumX
3D toolset for Adobe After Effects
Quickly and easily create slick and sophisticated 3D animation.
HeliumX Lite
Model – Import a 3D model
Extrude – Extrude and animate 3D Text and Paths
Primitive – Add procedural 3D shapes such as cube, sphere, plane, or more
Scroll – Add 3D page scroll effect
HeliumX
Volume - Render 3D Smoke effects from VDB files
Volumetric Lights – Create a volumetric light effect that respects the rest of the 3D scene
Abstract - create stunning organic effects using procedural noise generators
Terrain – Create terrain surfaces from height maps
Cloners - Clone your 3D objects in various array shapes such as grid or circle
Spline – Create a 3D spline from a mask or lights
Mirror – Add a planar mirror to your scene
Wireframe - Add a 3D wireframe , rendering objects along the object edges and vertices
Helium Comp – Add an entire Helium setup from another layer or comp
Procedural Cloners - Clone using an algorithm
Fog - Add Fog Effect
Material Library - Material presets
Assets library - Presets for text and Materials.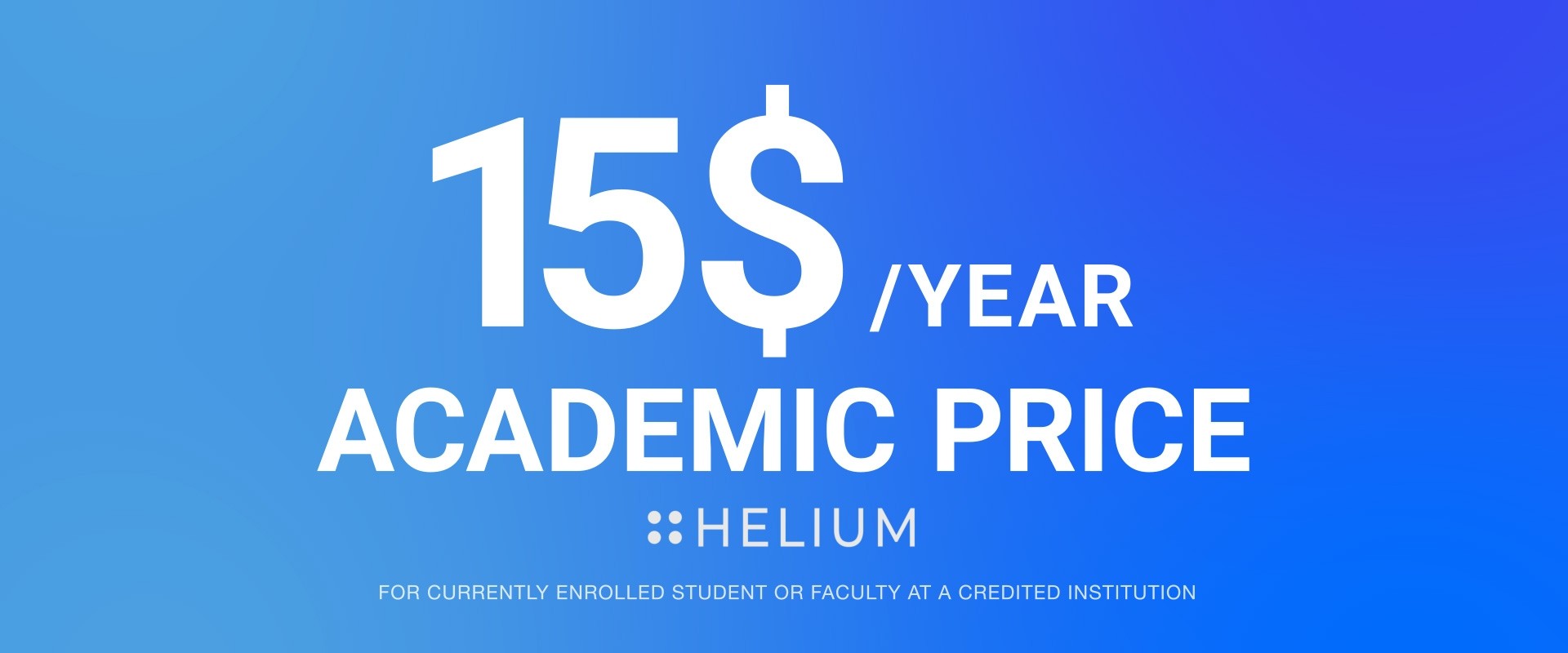 3D MOTION MADE EASY
STUNNING MOTION GRAPHICS WITH EASE
From adding a single 3D model to your scene to creating beautiful complex animation, Helium is the easiest, but also sophisticated way to add depth to your work inside After Effects.
EASY AS TYPING
Create Stunning Animated Text With Just a Few Clicks
Operating wholly within After Effects, Helium is a powerhouse, packing many advanced features and tools such as 3D Models, 3D Animated Text, Splines, Terrain, Mirror, Primitives, Scroll, Cloners, Light Effects, and much more.
VISUALIZE DATA
Create Beautiful Data Visualisation Using Basic 3D Shapes In No Time
Helium's beautifully minimalistic content browser provides access to hundreds of editable presets so that the more you use it, the more powerful it becomes.
VOLUME RENDER
Create Smoke Effects From VDB Files
TERRAIN
Render Terrain surfaces with ease
SPLINES
Everyone Needs a Good Spline!
PRE COMPOSE
Comp Multiple 3D Helium Scenes
An entire Helium scene can be precomposed within your After Effects comp, resulting in neat and uncluttered projects with a level of complexity never before possible in After Effects. It has to be seen to be believed.
CLONERS
Create Beautiful Animation Using One of the Several Built-In Cloners
Main Features
Easiest 3D in After Effects.
Everyday 3D effects

3D models
3D primitives
3D animated text
Page Scroll effect
Terrain Surface
3D Animated Splines
Abstract effect

Unique stunning cloners and procedural effects
Lighting Effects
Easily editable using presets
Distinctive motion system to build sophisticated animations
Pre comp for 3D scenes and models
Feels natural for the After Effects user
Affordable annual price
Terms and Requirements
Subscription Terms
HeliumX is a recurring subscription, you can cancel the renewal anytime here
If you have canceled Auto-Renew, your subscription will be active until the expiration date. We do not offer refunds for the remaining time after cancellation.
Discount applies to the first year only, renewals occur at normal price
See product subscription FAQ for further assistance
System Requirements
macOS 10.14 and later
Windows 10 and later
Adobe After Effects 2020 (Version 18.0) and later
OpenGL 3.3 and later
| | |
| --- | --- |
| After Effects | 2023, 2022, 2021, 2020 |
Helium for macOS
7.0 (Current version) - Apr 17, 2023
Introducing HeliumX Lite
6.0 - Aug 15, 2022
Introducing Path Cloner, Model Groups and Workflow streamlining.
Main New Features:
- Path Cloner - Clone 3D Models along 2D and 3D paths
- Model Groups - Control the visibility and transform of model groups (OBJ)
- Material Effects - Declutter the timeline by collapsing Material Effects into Model Effects.
Remove unneeded Material Effects with their sources.
- Misc Bug fixes
5.1 - Jun 24, 2022
- Volume Effect - Render VDB smoke and fire effects.
- New presets
- Misc Bug fixes
Helium for macOS Apple Silicon Only
7.0 (Current version) - Apr 17, 2023
Introducing HeliumX Lite
6.0 - Aug 15, 2022
Introducing Path Cloner, Model Groups and Workflow streamlining.
Main New Features:
- Path Cloner - Clone 3D Models along 2D and 3D paths
- Model Groups - Control the visibility and transform of model groups (OBJ)
- Material Effects - Declutter the timeline by collapsing Material Effects into Model Effects.
Remove unneeded Material Effects with their sources.
- Misc Bug fixes
5.0 - Jun 13, 2022
- Fixed an issue when Volume render failed on Mac Intel with AMD GPU
Helium for Windows
7.0 (Current version) - Apr 17, 2023
Introducing HeliumX Lite
6.0 - Aug 15, 2022
Introducing Path Cloner, Model Groups and Workflow streamlining.
Main New Features:
- Path Cloner - Clone 3D Models along 2D and 3D paths
- Model Groups - Control the visibility and transform of model groups (OBJ)
- Material Effects - Declutter the timeline by collapsing Material Effects into Model Effects.
Remove unneeded Material Effects with their sources.
- Misc Bug fixes
5.0 - Jun 13, 2022
- Volume Effect - Render VDB smoke and fire effects.
- New presets
- Misc Bug fixes