Fixel Detailizer 2 PR
Compatibility Premiere

Please check exact version compatibility under the "COMPATIBILITY" tab below
Overview
Fixel Detailizer 2 PR is a Multi Scale Detail Enhancer filter.
Detailizer decomposes the image into 5 different details scales to allow a complete control of the contrast level of each detail scale level.
Detailizer benefits from an innovative Wavelets based algorithm.
Using Detailizer, controlling and enhancing the details and contrast level at each scale is just as easy as using Hi-Fi Equalizer.
Fixel Detailizer 2 PR is Multi CPU accelerated and compatible with Adobe Premiere Pro CS6, CC, CC 2014 & CC 2015 64 Bit on Windows and OS X.
Multi Scale Details
Different scales means the user can amplify details according to their size, Just like Audio Bands in Equalizer.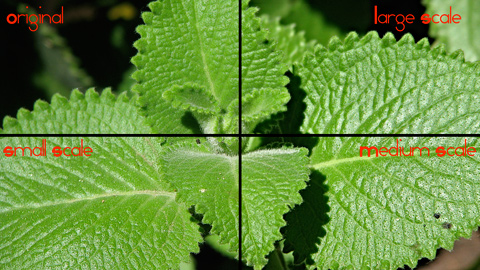 Multi Scale Detail Enhancement - Click for Full Size View
How is this different than "Unsharp Mask"?
Fixel Detailizer is different from "Unsharp Mask" since it decompose the image into "Bands".
Fixel Detailizer allow the user to set the sharpening level on each level independently.
This is a Multi Scale (Also known as "Frequency Separation") approach for image sharpening which is far more superior.
Features
5 Bands / Scales to Set Details Amplification and Enhancement Level
The user can set the amplification level of each detail scale as easy as setting amplification level for different bands in Hi-Fi Equalizer.
Preserve Saturation Mode
The filter will affect the Luminosity channel only. No color shifting.
HDR Like Effect
Setting high amplification for large scale details can achieve pseudo HDR effect.
Intuitive & User Friendly
Full integration with Adobe Premiere Pro using Native Code API.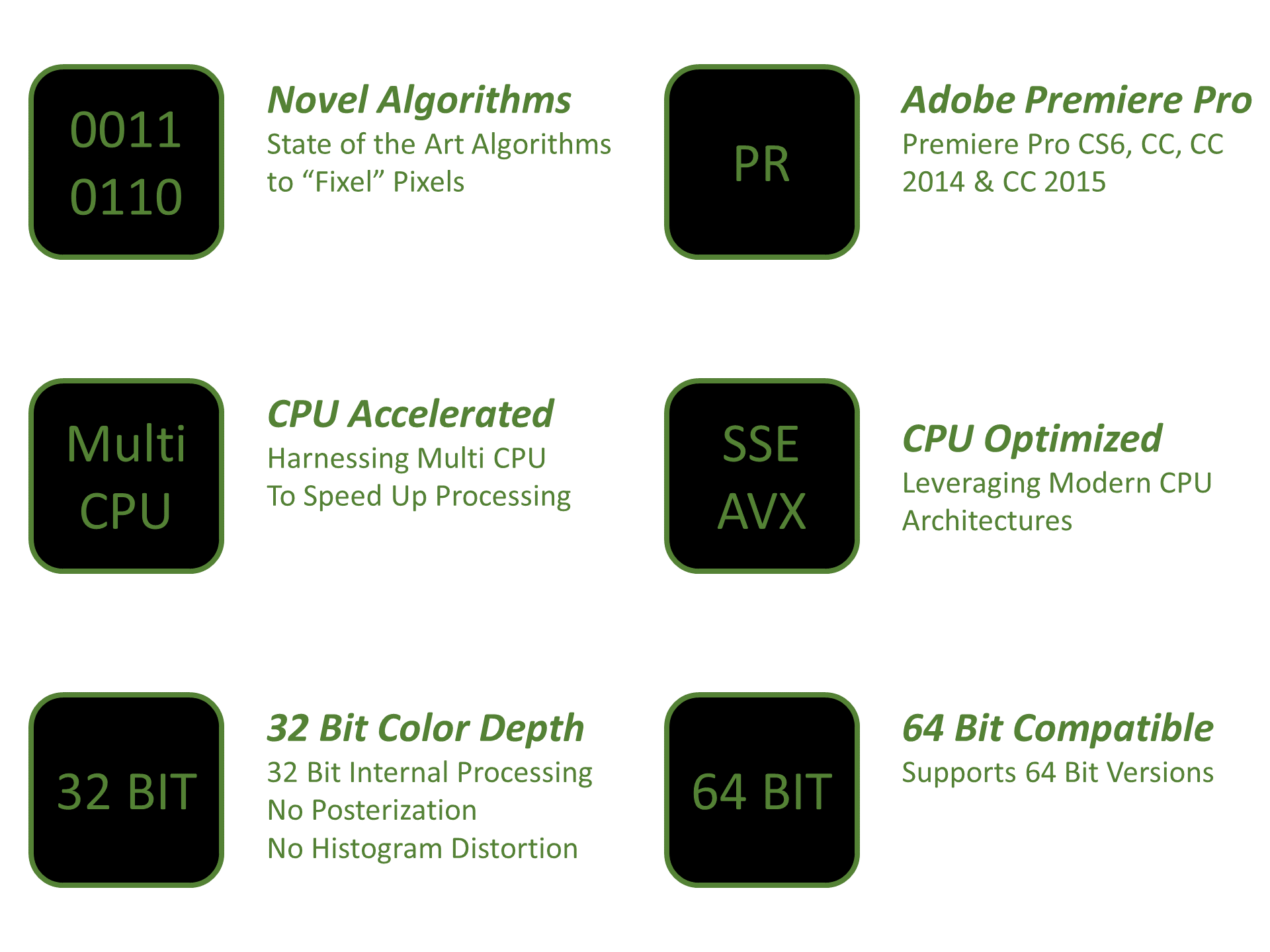 Fixel Detailizer 2 PR Resources
System Requirements
OS X 10.7 and above.
Windows Vista / 7 / 8 / 8.1 (64 Bit Only).
Adobe Premiere Pro CS6 or CC (All CC versions) 64 Bit.
CPU with SSE 4.1 support.
Installation, Usage and Support
Reviews
For reviewing the product, please contact us.
Credit
Fixel Detailizer 2 Bundle
The Fixel Detailizer 2 product family is composed of 3 products, Fixel Detailizer 2 AE, Fixel Detailizer 2 PS and Fixel Detailizer 2 PR.
Purchasing any plug in of the family entitles for 25% on any other product from the family.
This applies for any current or previous owner and for any combination (Namely for any you currently have you get 25% for any or both the others).
Upgrade Policy
Fixel Algorithms products versions are as following: <MajorVersion>.<MinorVersion>.<BuildNumber>.
Aescripts owners are entitled to free minor version and build number upgrades.
Aescripts owners of previous version are entitled to 50% discount for purchase of a new major version of the product.
If you purchased it on our old site simply create a new account using the same email address.
If you have any questions please contact support.
| | |
| --- | --- |
| Premiere | CC 2015, CC 2014, CC, CS6 |
2.0.006 (Current version) - Aug 14, 2015
- First Release Version.