Neat Freak
Compatibility After Effects

Please check exact version compatibility under the "COMPATIBILITY" tab below
What is it?
Neat Freak is a utility tool for After Effects to set UI (timeline columns, zoom, buttons, viewer and similar) elements to your liking project wide. Useful when working with collaborative, templates or any other 3rd party projects.
Have too many opened timeline columns and cannot even see layers? Or maybe viewer layout is all messed up an out of place? Then give Neat Freak a go!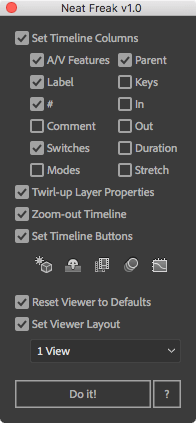 Neat Freak is not a tool that should be used regularly, but it might find a place in your toolkit when working with template projects or collaborating other designers. Neat Freak let's you set Timeline Columns project wide and wipe out columns that you don't need that take up unnecessary screen space (such as Comments, Keys, In, Out etc). It also helps when working on small screens, as you can set what should be visible in the interface. Another cool feature is that it can reset Viewport to default and turn off rulers, title safe grid, reposition composition to the center of viewport and such. There are some other small features, that you'll have to find yourself.
I do hope that this is something you find useful.
Features
Set Timeline Columns controls visibility of timeline columns.
Twirl-up Layer Properties closes all opened layer properties in timeline.
Zoom-out Timeline zooms out to entire composition.
Set Timeline Buttons controls the state of Draft 3D, Shy and other composition buttons. Button will be enabled only if composition contains at least one layer that matches property.
Reset Viewer to Defaults sets default viewer configuration.
Set Viewport Layout controls number of viewports visible in the viewer.
Notes
Neat Freak

saves current project as XML file and modifies it offline. It is highly recommended to back up your project before running the script.
There is no Undo step for the process.
| | |
| --- | --- |
| After Effects | 2020, CC 2019, CC 2018, CC 2017, CC 2015.3, CC 2015, CC 2014, CC, CS6 |
1.0 (Current version) - Apr 5, 2018
Initial Release