NumberLink
Compatibility After Effects

Please check exact version compatibility under the "COMPATIBILITY" tab below
Introducing NumberLink: The Simple Number-to-Slider Value Linking Tool!
Stop wasting time rigging up text layers to animate numbers and spend more dialing in your animation!
NumberLink is designed to revolutionize your animation workflow. With just a few simple clicks, it identifies every digit set within a text layer and automatically links them to slider values, giving you precise control over your animations.
Here's how it works:
1. Seamless Replacement: NumberLink effortlessly replaces each digit set in the text layer with a slider value, while ensuring the original text remains intact.
2. Easy Activation: Simply select one or more text layers, hit the "Run Selected Layers" button, and you're done. Or enter what you want your text layer to say and hit the "Create New Text Layer" button!
3. Custom Controls: Each set of numbers gets its own dedicated controls, allowing you to add commas and decimal places effortlessly.
Features:
Animate In - Checked:
With the "Animate In" box checked, all numbers will have a keyframe set at 0 and a second keyframe set at the original value, making it easy to find and adjust the animation.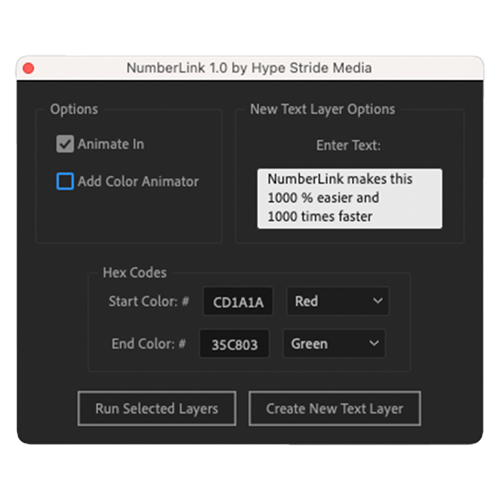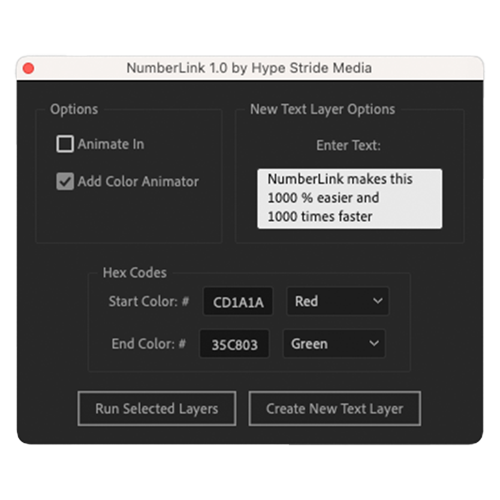 Add Color Animator - Checked:
By checking the "Add Color Animator" box, you unlock additional controls, enabling you to set the color, offset the range, and select the offset type. This feature allows you to include symbols or use it alongside other text animations seamlessly. If the "Animate In" box is not checked, the color is automatically taken from the "End Color" box.
Animate In & Add Color Animator - Checked:
When both checkboxes are selected, NumberLink synchronizes color and slider animations by setting keyframes at the same times.
The 1st Keyframe: Color Animator = Start Color && Number = 0 || The 2nd Keyframe: Color Animator = End Color & Number = Original value.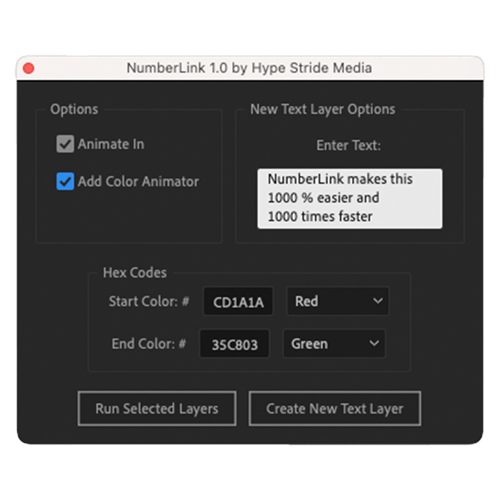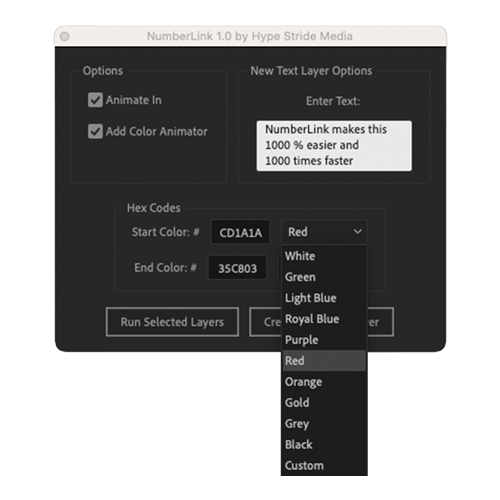 Easily customize colors by entering different hex codes or selecting from a range of presets available in the dropdown menu. You can also easily change them after you run NumberLink.
Create New Text Layers:
NumberLink also enables the creation of new text layers with ease. Simply enter your text and press the "Create New Text Layer" button to initiate the process. NumberLink will automatically run on the new text layer, with all of the settings you have selected.
Create New Text Layers With Layers Selected:
If you have one or more layers selected in your composition when 'creating new text layers', NumberLink will create the new text layer and set the in and out points (duration) to match those of the selected layer. Additionally, the new text layer is conveniently placed directly above the selected layer in the composition, making layer management a breeze.
NumberLink is a simple solution for and major inconvenience within After Effects.
Don't spend another second rigging up text layers, get NumberLink today!
| | |
| --- | --- |
| After Effects | 2023, 2022, 2021, 2020 |
1.0.1 (Current version) - Aug 12, 2023
Works in english and non-english language versions of After Effects
1.0 - Jul 28, 2023
Initial Release