Sticky-Web
Compatibility After Effects

Please check exact version compatibility under the "COMPATIBILITY" tab below
Parent your layers

directly in the composition!
Sticky-Web is a quick and fun tool to make parenting and re-anchoring painless.
It is built to help prepare characters for rigging or animating, without the need to parent in the timeline or anchor one layer at a time.
Free Trial Features
Weave your parenting webs directly in the composition
Move your anchor points around, all within one layer
X-Ray your layers to see exactly where the joints overlap
Duplicate, flip, rotate, and reuse your webs however you need
Adjust multiple anchors together with transform tools
Rig your character stress-free and faster than ever!
The Free Trial has no time limit! It contains all of the features listed above.
Full Version Features
The full version comes with many additional features to make life easier:
A 'Training Course' AE project with various characters for practice
Colourise your layers to match the anchor points
Visualise the bounding boxes to help identify your layers
Draw loops to either bulk-parent layers or parent them to a new null
Load pre-existing parenting structures as webs
Unstack anchor points if there are overlapping anchors
Work only on the layers you've selected
Custom, saveable settings
Quick-set menus to run custom settings for a one-time use
Any future additions to the tool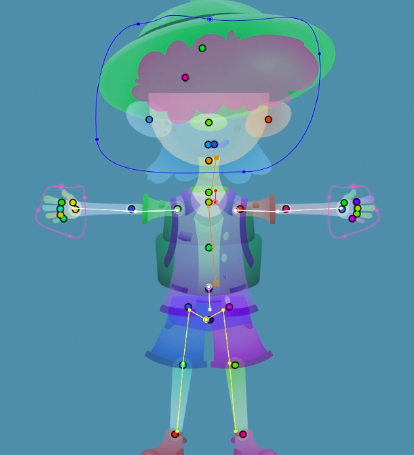 Any limitations?
Sticky-Web will ignore 3D layers, Adjustment Layers, and Locked Layers.
If you adjust the anchors on layers with their Position or Anchor Points animated, Sticky-Web will skip them.
Try it out now!
The Free Trial has no time limit! It contains all of the 'Free Trial Features' listed above.
Once you get comfortable and you want to get more out of Sticky-Web, get your hands on the Full Version!
| | |
| --- | --- |
| After Effects | 2022, 2021, 2020 |
1.1 (Current version) - May 1, 2022
Support added for German, French, Italian and Portuguese languages.
Not tested on Japanese, Chinese, Korean and Russian languages, but likely to work.
1.0 - Apr 27, 2022
Initial release