Sticky-Web
Compatibility After Effects

Please check exact version compatibility under the "COMPATIBILITY" tab below
Parent your layers

directly in the composition!
Sticky-Web is a quick and fun tool to make parenting and re-anchoring painless.
It is built to help prepare characters for rigging or animating, without the need to parent in the timeline or anchor one layer at a time.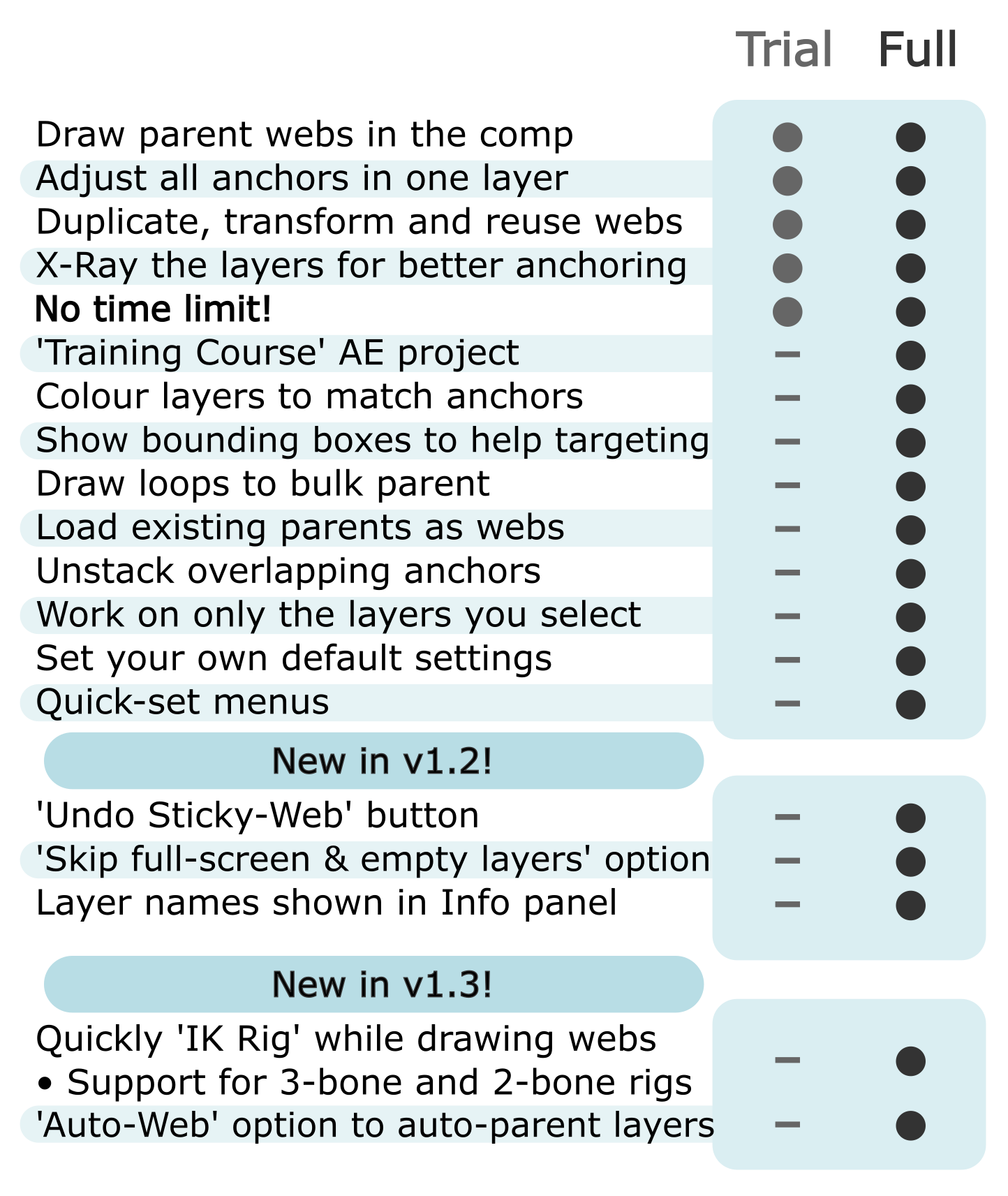 Any limitations?
Sticky-Web will ignore 3D layers, Adjustment Layers, and Locked Layers.
If you adjust the anchors on layers with their Position or Anchor Points animated, Sticky-Web will skip them.
Try it out now!
The Free Trial has no time limit! It contains all of the 'Free Trial Features' listed above.
Once you get comfortable and you want to get more out of Sticky-Web, get your hands on the Full Version!
| | |
| --- | --- |
| After Effects | 2023, 2022, 2021, 2020 |
1.3.1 (Current version) - Nov 25, 2022
Added quality-of-life fixes:
- 'Unstack Anchors' will first Recenter Anchor Points, then if still necessary, spread anchors in a circle.
- Separated Dimensions (X and Y position) now supported when it comes to adjusting anchors.
1.3 - Nov 15, 2022
Added new features and minor touch-ups:
- New: 'IK Rigs' - End a web with 3 mask points to create an IK. Works on 3 bones and 2 bones.
- New: 'Auto-Web' - Automatically load up webs based on your own custom list.
- Anchor Mask Points slightly darker than Anchor Circles, for easier viewing and selecting
- Web and Anchor layers are fixed in place, to avoid accidental moving and scaling
- Bulk-parenting no longer overrides new/existing parenting structures.
1.2 - May 29, 2022
Added quality-of-life features and minor touch-ups:
- New: 'Undo Sticky-Web' button in the 'Settings' menu. With this, you can cancel Sticky-Web instantly.
- New: 'Ignore 0x0 and Full-Screen' option. It skips full-screen layers (like backgrounds) and empty layers (like empty layers from Illustrator)
- Layer names now show up in the 'Info' panel when you adjust the anchor points.
- X-Ray no longer modifies the Opacity property; it works by adding a 'Transform' effect.
- Colour Layers refined, so that black and white shades are also coloured.
- Load Parents option forces Sticky-Web to run on all layers instead of just selected layers.
- More descriptive error messages added.
1.1 - May 1, 2022
Support added for German, French, Italian and Portuguese languages.
Not tested on Japanese, Chinese, Korean and Russian languages, but likely to work.
1.0 - Apr 27, 2022
Initial release