Text Force
Compatibility After Effects

Please check exact version compatibility under the "COMPATIBILITY" tab below
KEY FEATURES
Instant results.
9 Stylish fast animations.
Balanced and readable cuts.
Fully automatic.
Override any random parameter.
3 audio track syncing modes.
NEW IN V1.1
Separate Text tool.
Progress Bar.
Full compatibility starting from AE CC 2012.
Bug fixes.
STYLES
9 different animation styles available: Slide, Mask Slide, Track Slide, Blink, Flash Off, Ping Pong, Zoom, Hyper Zoom, Typewriter.

SPLITS
Separate text in 3 different ways: entire Paragraphs, Rows, Words.

FULLY AUTOMATIC
Text Force is ready to go! Select text layers. Click on ANIMATE. The script generates text animations choosing randomly between 9 different styles, each with its own options, and 3 split modes.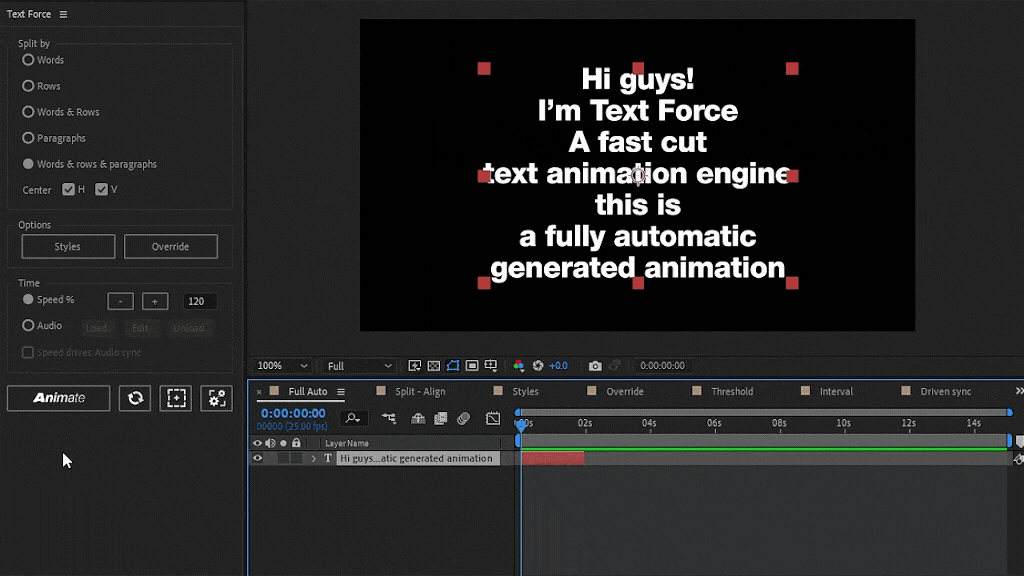 STYLES SELECTION
The styles window. Enable or disable multiple styles. Text Force randomly chooses between all the active styles to generate the text animations.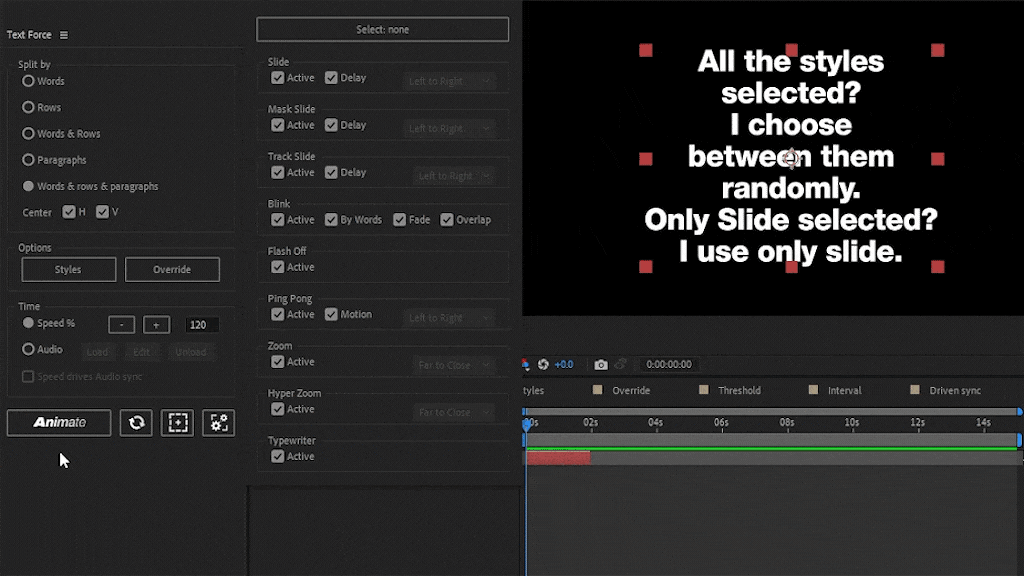 Override
The override window. Assign a specific style and split mode to each text block. Text Force set markers on each text layer, and generates the text animation referring to the assigned style and split mode.
(P) = Paragraph. (R) = Rows. (W) = Words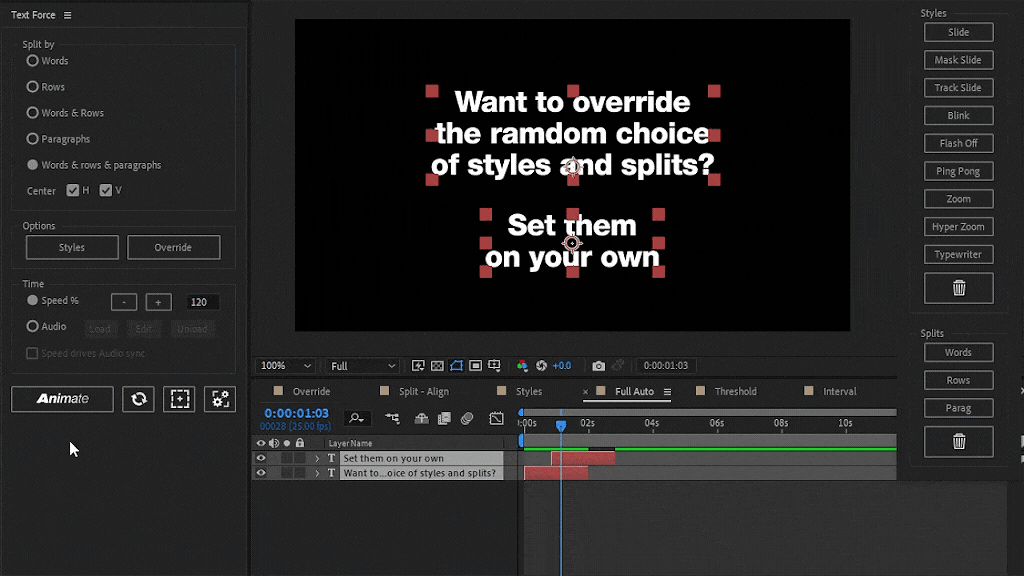 AUDIO SYNC
To enable audio sync switch to AUDIO in the TIME panel, select the audio track, and click on LOAD. The audio peaks markers are generated.
Click on EDIT to open the edit window. Use the THRESHOLD slider and click on GENERATE to remove useless markers.
Higher the value, less the markers.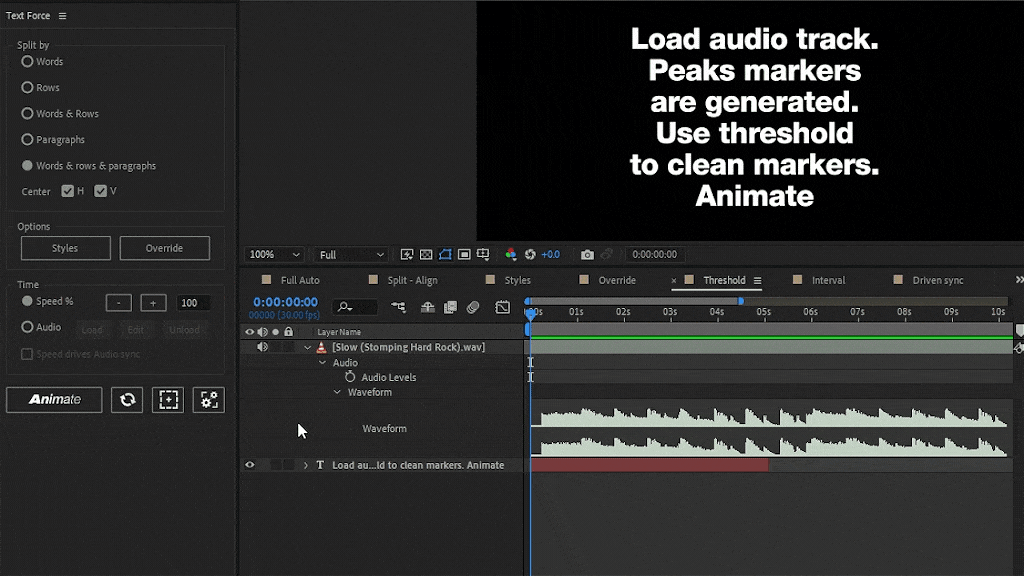 | | |
| --- | --- |
| After Effects | 2022, 2021, 2020, CC 2019, CC 2018, CC 2017, CC 2015.3, CC 2015, CC 2014, CC |
1.1.1 (Current version) - Dec 21, 2021
- fixed: manual directions are always set to default.
1.1.0 - Nov 9, 2021
- new feature: Separate Tool. Split long text blocks into layers by punctuation.
- new feature: progress bar display animation progress while processing text layers.
- fixed: full support to After Effects older versions (from AE CC V12.0.0 2012)
- fixed: Settings window can't be opened again after closing it.
- fixed: in some cases Load button remove audio track from the timeline.
1.0.2 - Oct 29, 2021
- fixed: in some cases the script windows locations are off the screen margin, and can't be closed.
1.0.1 - Oct 27, 2021
- fixed: LOAD audio track does not work when running not english version of After Effects.
- fixed: the script does not generate animations when only 2 styles are active in the styles options window
1.0 - Oct 19, 2021
- Initial release