MochaImport Plus
Compatibility After Effects

Please check exact version compatibility under the "COMPATIBILITY" tab below
MochaImport Plus allows to quickly and easily send your footage for tracking in Mocha then import the Mocha tracking data back in After Effects and use it in whatever way you want.
send clips and masks from After Effects to Mocha
corner pin, move layers, stabilized precomps, advanced stabilizations and more
Features


Track in Mocha button: send clips including masks, in- and outpoints from After Effects to Mocha - with just one click. (learn more)


Easy Import: With the status panel, you always know what kind of tracking data you need to export for your task at hand. (learn more)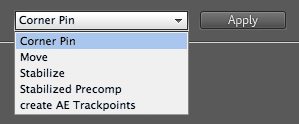 Apply your Tracking Data: MochaImport+ supports a variety of tasks from corner pin and movement of layers to stabilizing shaky footage. Even complex rigs for stabilized precomps and image stabilization can be created with just one click.
(learn more about the individual functions: corner pin, move, stabilize, stabilized precomp, create AE trackpoints)
Download the press release for more details
Upgrade notice: If you purchased this item when it was a "Name Your Own Price" item you will get a discount equal to 50% of what you paid. Login to see the discounted price if you qualify.
Compatibility
| | |
| --- | --- |
| Supported Mocha versions: | All version of Mocha for After Effects, Mocha, and Mocha Pro (learn more) |
| Supported corner pin effects: | Corner Pin, CC Power Pin, Red Giant Warp |
Related tutorials
Tutorials on older versions of MochaImport: (The interface changed, but they might still be helpful to get the ideas)
Other voices
Thank you for all that you do for the AE community.
Colin Rider, after mentioning MochaImport in his showreel.
You're doing some great work here. The community owes you a debt.
Tim Stotz on AExtensions.blogspot.com
This is an awesome script! Now rotoscoping will be fun!
Diego Gagliardi on Vimeo
The user interface
Should I use MochaImport+ or MaskTracker+?
MochaImport+ has a sister product MaskTracker+ which can do similar things, but is based on the mask tracker of After Effect CC instead of mocha.
Our experience is that working with MaskTracker+ is usually a bit quicker on simple tracks, since you can do all work inside After Effects and don't need to switch to a separate application. On the other hand, the mocha planar tracking technology gives often better results for challenging tracks that have motion blur or reflections, for example. Also, mocha can easily handle foreground elements, can do multiple tracks simultaneously and supports X-Splines which makes it the tool of choice for bigger tracking and roto jobs.
Our tip: Your best choice is the Tracking Bundle which contains both MaskTracker+ and MochaImport+. Then you can do most tracks quick and easy with MaskTracker+ but if the mask tracker gives bad results, you can switch to mocha instead of spending hours to fix your track.
| | |
| --- | --- |
| After Effects | CC 2014, CC, CS6, CS5.5, CS5, CS4, CS3 |
4.47 (Current version) - Dec 17, 2014
fixed issues with special symbols in file names
4.46 - Nov 30, 2014
fixed issues with sending masks to AE CC 2014 and with bracket symbols in file names
4.45 - Jul 24, 2014
added support for mocha Pro V4
4.44 - Jun 25, 2014
added support for AE CC 2014
4.43 - Jun 24, 2014
fixed licensing issues
4.42 - May 2, 2014
fixed issues with more problematic symbols in filenames
4.41 - Apr 23, 2014
fixed issues with dot symbols in the middle of filenames
4.40 - added compatibility with After Effects CC - Nov 2013
4.30 - updated user interface to match new CI - Sep 2013
4.20 - added compatibility with After Effects CC - Jun 2013
4.17 - fixed issue with very large numbers in tracking data - Jan 2013
4.16 - support of RED R3D files (when using mocha v3.1 or newer) - Nov 2012
4.15 - fixed bug with image sequences whose file names only consist of numbers without a prefix - Nov 2012
4.14 - fixes an issue with 23.976 fps footage - July 2012
4.13 - support of MFX files (Panasonic based P2 media) - May 2012
4.12 - Support for MochaAE CS6 and Mocha Pro v3, better image creation - Apr 2012
4.10 - Change to MochaImport+. Complete re-design, added 'Send To Mocha' - Mar 2012
3.03 - Improved import of corner pin data for interleaced footage - Feb 2011