breakdowns
Compatibility After Effects

Please check exact version compatibility under the "COMPATIBILITY" tab below
Export labeled sequences and videos from vertical stacks.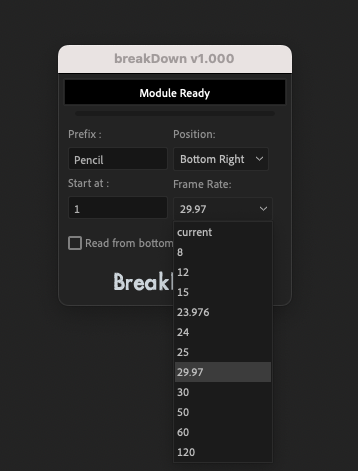 BreakDowns is for for animators who work with vertical stacks in After Effects, offering a smooth transition for those accustomed to animating with Photoshop.
The primary advantage of BreakDowns is its ability to export your animations with a single click while automatically labeling layers and saving you from the hassle of manual numbering or adding redundant information. BreakDowns also generates labeled high-definition PNGs conveniently stored in a dedicated folder. Simplify your animation process and enhance your workflow with the power and efficiency of BreakDowns.
BreakDowns provides a range of customizable options to suit your specific needs. For example, you can adjust the prefix for layer tags, define the start number, choose the overlay position, select the desired framerate, and determine the order of layers (bottom to top or vice versa). Additionally, Breakdowns grab your text style, and you can position the layer number overlay.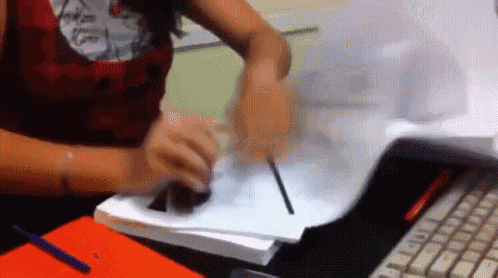 BreakDowns automatically creates labeled and numbered PNG images based on your layer stack. These images are saved in a uniquely named folder derived from your composition and a series of numbers. This unique naming system makes it suitable for versioning purposes.
Concurrently, BreakDowns renders a video that includes the labels and is based on your chosen frame rate. This video is stored in the animation folder with a unique name, which also supports versioning by keeping each animation sequence distinct.
No additional elements are added to your project, ensuring your layers remain unaltered and your project stays clutter-free.

BreakDowns only requires one frame to function, as it utilizes the PlayHead and processes layers vertically, either from top to bottom or from bottom to top, depending on your preference.

By generating unique sequences and animations, BreakDowns streamlines your workflow and facilitates effective project versioning.
| | |
| --- | --- |
| After Effects | 2023, 2022, 2021, 2020, CC 2019, CC 2018, CC 2017, CC 2015.3, CC 2015, CC 2014, CC |
1.000 (Current version) - Apr 21, 2023
Release