Drag Zoom Pro for Adobe Premiere Pro
Compatibility Premiere

Please check exact version compatibility under the "COMPATIBILITY" tab below
Create smooth transitions with natural motion blur to zoom into portions of the frame without the need to fiddle manually with "position" and "scale" numbers in the "transform" effect.
With this extension you can literally just click and drag to draw a rectangle around a part of the frame and that's it - keyframes and proper values will be set automatically. This is especially useful when working with screen recordings or interviews.
NEW in version 1.1 - ROTATION FEATURE !
Super handy for editing stream highlights
The extension allows for a lot of customisability and includes tools to achieve a consistent look across projects. It also supports creating transitions with motion blur on footage with higher resolution than the timeline (which normally causes problems in Premiere Pro).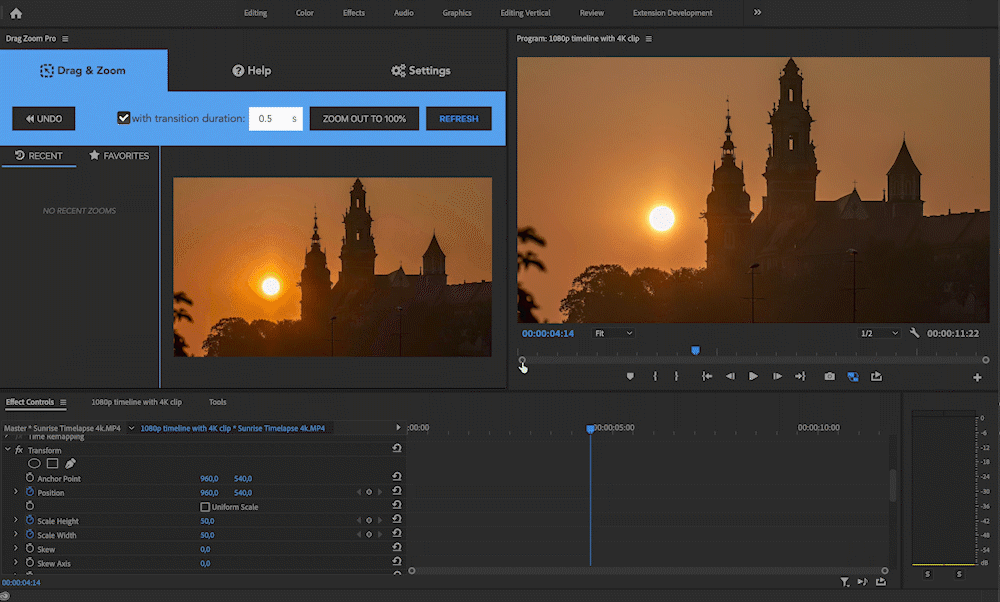 1 min demo:
---
rotation feature in v1.1
---
full tutorial:
| | |
| --- | --- |
| Premiere | 2024, 2023, 2022, 2021, 2020, CC 2019 |
1.1.7 (Current version) - May 11, 2023
- proper support for bezier easing of keyframes
- fixed blank UI issue
1.1.6 - May 9, 2023
- proper support for bezier easing of keyframes
1.1.5 - May 8, 2023
- support for portugese language
1.1.4 - Aug 12, 2021
- compatibility with Premiere Pro 15.0
1.1.1 - Feb 25, 2021
- Ability to manipulate ROTATION (NEW!)
- faster refreshing
1.1.0 - Feb 22, 2021
- Ability to manipulate ROTATION (NEW!)
- faster refreshing
1.0.7 - Jan 29, 2021
fixed adding the transform effect in some situations
1.0.6 - Jan 25, 2021
Initial release