Layer Repeater
Compatibility After Effects

Please check exact version compatibility under the "COMPATIBILITY" tab below
Easily animate offsets in space and time for multiple layers
UPDATE!
There is now a version 2.6 of Layer Repeater.
I have added controls to leet you offset layers in time! Shift them, offset, randomize, and loop them all you want. Enjoy!
Also, this version has a new effect called LayerRepeater_2_6.ffx, so it shouldn't interfere with old versions.
After unzipping the file, you will have:
Layer Repeater v2-6.jsxbin
A folder called layer_repeater_effects
Simply copy both to your ScriptUI Panels directory (application or user) and restart After Effects
Instructions:
Run the script from the Windows menu
Select the layer you want to duplicate
Choose how many layers you want to make a copy of
Choose if you want the layers to have 3d properties or not
Click Layer Repeater GO!!!


There will now be a composition in place of the layer you wanted duplicated
There will also be a null added to your composition with controls to affect the duplicated layers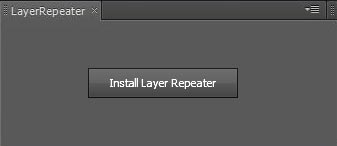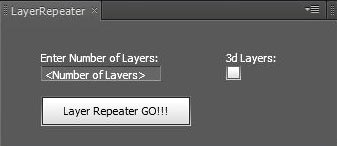 ---
After running the script, you will be able to animate offset and random parameters of many layer properties. These include:
Anchor Point
Position
Rotation
Scale
Opacity
Animation through time with a frame offset
Included in the download are full descriptions of all the properties that Layer Repeater can control.


| | |
| --- | --- |
| After Effects | 2023, 2022, 2021, 2020, CC 2019, CC 2018, CC 2017, CC 2015.3, CC 2015, CC 2014, CC, CS6, CS5.5, CS5, CS4, CS3 |
2.6.6 (Current version) - Dec 4, 2022
Support added for layers with the position property separated
2.6.5 - Aug 14, 2022
Added a .manifest file to help installation wehn using the aescripts + aeplugins manager app to install
2.6.4 - Dec 1, 2020
Fixing a small bug in the time remapping expression that could sometimes cause the expression to error and not evaluate
2.6.3 - Jun 27, 2020
Adding in files to retain partial compatibility with After Effects versions older than CC 2019. Older version back to CS 6 should now work again, however they will not have any time remapping features that were added in Layer Repeater v2.6
2.6.2 - Jun 16, 2020
Updating script file name for compatibility
2.6.1 - Jun 13, 2020
Fixing a bug in the time remapping controls
2.6 - Jun 12, 2020
Adding new controls to let you offset layers in time
2.5 - Oct 6, 2019
Adding button to duplicate the Repeater comp
2.4 - Sep 7, 2017
No longer need to be admin to install.
Added checkbox to reverse order of layer stacking
2.3 - Dec 17, 2013
Performance upgrade. Added an active checkbox for "Random"
If you don't need random amounts, disable it and everything will perform faster
2.2 Wrapped entire script in a function so it won't interfere with other scripts - August 2013
2.1 Optimized expressions for speed (mainly opacity and scale, but everything slightly) - June 2013
2.0 - June 2013
Added new controls based on custom pseudo effect

Simplifies interface
Requires writing to PresetEffects.xml

Added controls for random addition to position, rotation, scale, and opacity
Added control to change random seed
Added controls to enable/disable each expression (Anchor Point, Position, Rotation, Scale, Opacity)

Overall the expressions calculate slower now because of inclusion of random factors
Please disable any controls you aren't using to speed things up (especially Opacity)
1.3 - Added ability to hide back side of layer
1.2 - International languages are now working (Version 1.1 had a bug)
1.1 - Added support for international languages
1.0 - Initial Release - August 2012