Pseudo Effect Maker 3
Compatibility After Effects

Please check exact version compatibility under the "COMPATIBILITY" tab below
What's new in version 3?
Replace the selected control with the working control to make updates without losing expressions and keyframes on your pseudo effect
All new interface for a cleaner, more organized design experience
Improved drag and drop performance
A more customizable user interface so you can quickly access the features you use most often
Improved warnings and errors to help find issues or conflicts with your pseudo effect before you start working with it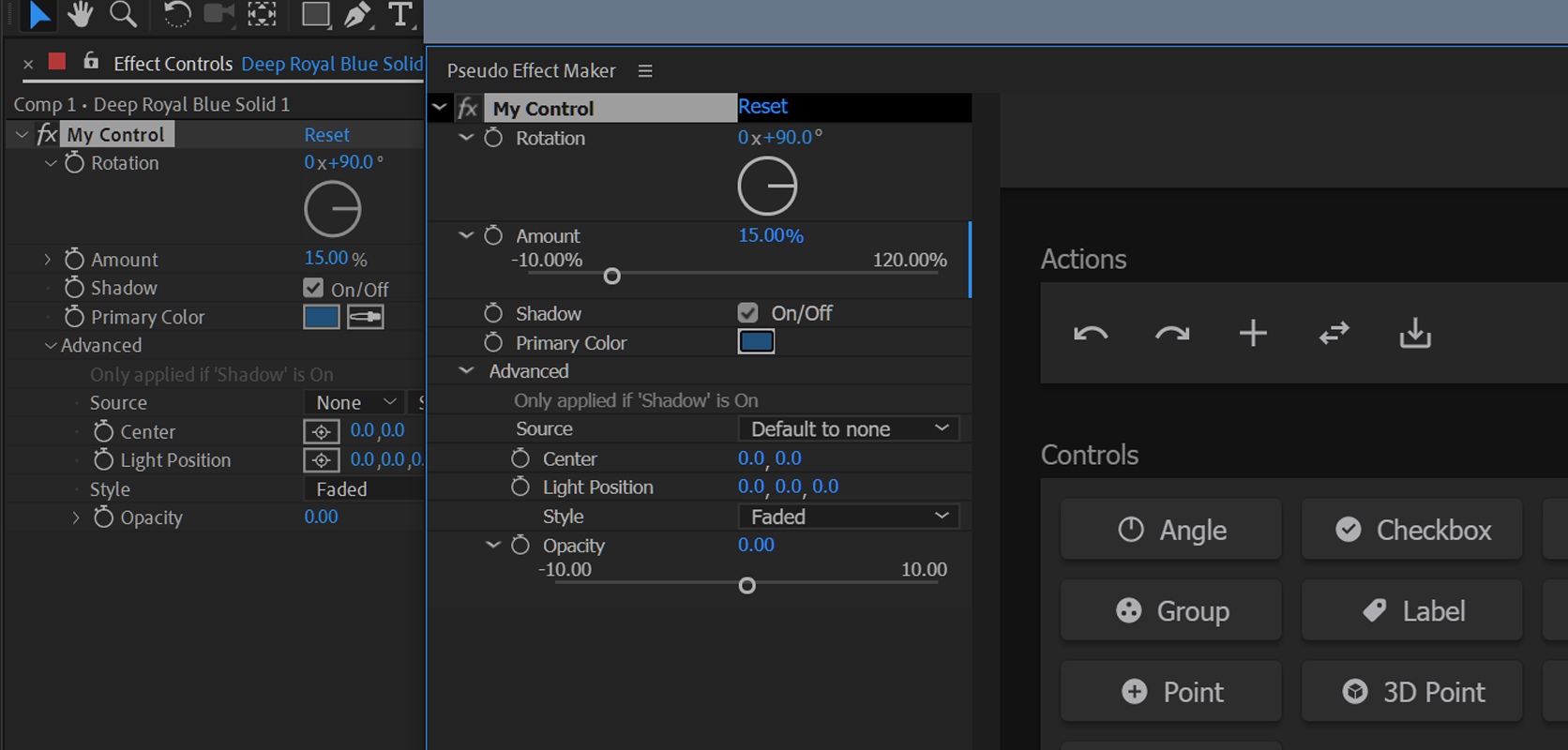 Create Controls in Seconds.
Add controls with a click
Drag-and-drop to organize
Apply without restarting After Effects
Change your controls dynamically as you work
Simple. Clean. Organized.
Standard expression controls can get messy quickly.
Pseudo effects allow you to create a singular controls with custom names, default values, and grouping.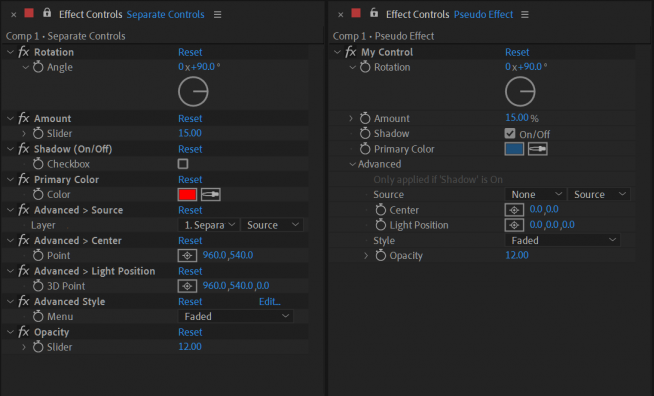 Frequently Asked Questions
What is a pseudo effect?
A pseudo effect is also known as a 'custom expression control.' After Effects has several expression controls built in; however, they are all individually separated. This means that if you need to use multiple controls for your project, you'd have to add each control separately, which can get messy and unorganized.
A pseudo effect allows you to create a custom group of controls, name and organize it however you want, and make your expression controls more manageable and more like built-in effects.
What are the limitations of pseudo effects?
Pseudo effects end up looking a lot like built-in effects, but it is important to remember that they are just complex controllers. Although you can connect them to other effects and properties through expressions and set custom limits and defaults, they will not replace anything. Without the actual effects present, your control will not do anything, and at the moment there is no way to hide effects in the effects panel.
Trial Version
The trial version has 2 limitations. First, you are limited to adding 3 controls to your pseudo effect. Second, there is a "watermark" displayed on all of the applied controls. Otherwise, the trial is exactly the same as the full version, so you are able to fully test if this tool will fit in to your workflow.
Please try it before purchasing.
Upgrade Notice
If you purchased Pseudo Effect Maker 2 after April 1, 2021 you can upgrade for free, otherwise the upgrade is $9. Simply login to the same account you made the purchase from and the discounted price will be shown automatically. If you need any assistance please open a support ticket.
| | |
| --- | --- |
| After Effects | 2022, 2021, 2020, CC 2019, CC 2018, CC 2017, CC 2015.3, CC 2015 |
3.1.1 (Current version) - Aug 17, 2023
- fix bug where XML error would show when pasting text into text boxes
3.1.0 - Feb 17, 2023
- fix bug with negative defaults on point controls
- fix issue where auto-save and preferences may not save successfully
- update licensing framework
3.0.2 - Sep 30, 2021
- show proper warning when control names are too long
- fix issues when working with labels
- remove slider warning when the invalid control is deleted
- prevent additional Pseudo/ from being added to matchnames

3.0.1 - Aug 4, 2021
- Fix a bug with errors when opening controls from older versions of Pseudo Effect Maker
- Fix bug where controls could not be drag-and-dropped when the effect was empty
- Move alerts / warnings to a popup to avoid large interface shifts
- Add "Compact Mode"
3.0.0 - Jun 29, 2021
- Replace the selected control with the working control to make updates without losing expressions and keyframes on your pseudo effect
- All new interface for a cleaner, more organized design experience
- Improved drag and drop performance
- A more customizable user interface so you can quickly access the features you use most often
- Improved warnings and errors to help find issues or conflicts with your pseudo effect before you start working with it