Pseudo Effect Maker
Compatibility After Effects

Please check exact version compatibility under the "COMPATIBILITY" tab below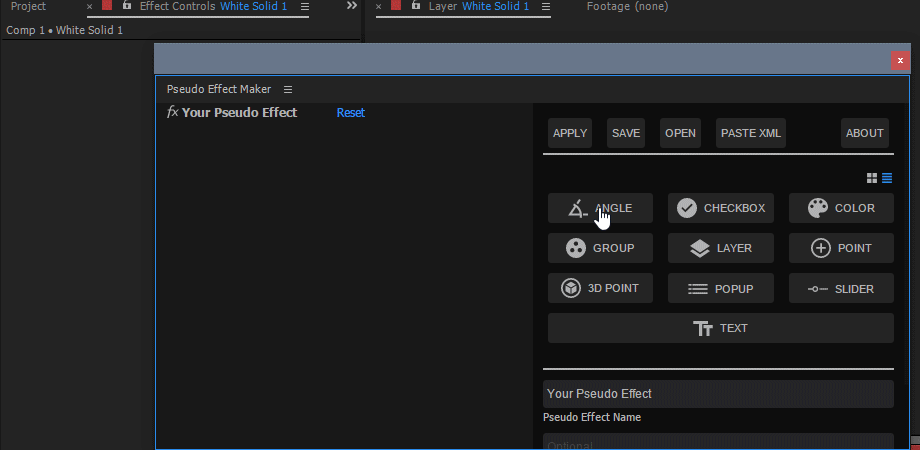 The Pseudo Effect Maker gives you a simple, user-friendly interface that allows you to quickly and easily develop, organize and apply custom effect controls. These controls can then be used to drive expressions and layers within your After Effects project and be saved as presets so that you can quickly reuse them, or so that others can use the tools you create.
What is a Pseudo Effect?
A pseudo effect is also known as a 'custom expression control'. After Effects has several expression controls built in, however, they are all individually separated. This means that if you need to use multiple controls for your project, each one will have to be added separately, which can quickly get messy and unorganized.
A pseudo effect allows you to create a custom group of controls that can be named and organized however you want and make your expression controls easier to work with and look more like built in effects.
Now that I have my Pseudo Effect, how do I hide the built-in effects that I am controlling?
You can't.
Any effects that you are using as part of your preset will always have to be present.
Pseudo effects are just simple controllers. They can be connected to other effects and properties through expressions and allow you to set custom limits and defaults, but they will not replace anything. Without the actual effects present, you control will not do anything, and at the moment, there is no way to hide effects in the effects panel.
Getting Started with the Pseudo Effect Maker
To get a general overview of how to use the Pseudo Effect Maker, check out the video below. You can also read the Help File to get all the details.
| | |
| --- | --- |
| After Effects | 2020, CC 2019, CC 2018, CC 2017, CC 2015.3, CC 2015, CC 2014 |
2.2.19 (Current version) - May 20, 2020
> Licensing Update
2.2.18 - Dec 10, 2019
> CC 2020+ compatibility update
2.2.17 - Sep 8, 2019
> Licensing Update
2.2.16 - Oct 18, 2018
> Compatibility update for After Effects CC2019
2.2.15 - Oct 12, 2018
> Licensing update
2.02 - Jun 2, 2018
> Bug Fix: When opening old presets, names and matchnames are loaded properly.
- Previously saved controls may open with the matchname 'THE MATCH NAME', future saves and opens will load with the correct matchname. (The 'THE MATCH NAME' bug is specific to the Pseudo Effect Maker and does not affect the actual matchnames used by After Effects)
> Minor Feature: Save location of presets is now stored so on subsequent saves, the last folder used will be opened by default
> Display Fix: Control names will now use the full available width to prevent names from being cut off
2.01 - May 31, 2018
> Bug Fix: Saved presets now open in the Pseudo Effect Maker without an error
> Bug Fix: 'Dimmed' text controls now display properly in the effect panel when they are recreated
2.00 - May 29, 2018
> New Feature: Undo and redo functionality has been added
> New Feature: The order of slider control properties is now customizable
> New Feature: Invisible controls are now supported
> New Feature: The selected control is now marked in the effect panel area for easier reference
> New Feature: Dragging and dropping with multiple items is available
> New Feature: Slider min and max can be shown in the effect panel for quick referencing and editing
> New Feature: Multiple effect panel styles are available to choose from. Currently CC, CC2014, CC2015 and CC2018
> New Feature: Combine saved controls. Similar to opening a control, but appends it to the current control rather than overwriting
> New Feature: Controls can now be written in JSON, if desired, and pasted directly into the Pseudo Effect Maker (see readme for details)
> Minor Feature: Interface options have been moved to a new Preferences panel for easy access
> Minor Feature: Customize which action buttons are shown at the top of the panel
> Improved Feature: Dragging and dropping should now have better performance and will not lead to odd duplication issues
> Improved Feature: Slider inputs will no longer auto-correct, you will simply be shown a warning if values are invalid
> Bug Fix: Special characters will no longer cause issues when applying, saving and loading pseudo effects
> Bug Fix: Angle controls with negative default values will now be properly reset
1.03 - Jun 6, 2017
> New Feature: Auto Save -> While editing your pseudo effect, the Pseudo Effect Maker will automatically save your control and will load it automatically upon reopening
> New Feature: Display Indexes -> You can now toggle index display on and off. The indexes can be useful when writing expressions for your pseudo effects
> New BETA Feature: Read Expression Controls (CC 2017 and newer only) -> Create your controls by reading and Expression Controls that are applied to a layer.
> Minor Feature: Control count is now shown in the menu.
> Bug Fix: Dragging and dropping controls should now be more controlled and consistent
> Bug Fix: 'File Not Found' error when applying a control should no longer appear
> Other minor bug fixes and text fixes
1.02 - Apr 23, 2017
> Bug Fix: Fixed issue where saved controls were not opening properly
> Bug Fix: Previous bugfix for adding .ffx extension on Macs did not work. It should now be working
> Minor Interface Change: Popup control option now shows limit for the maximum length
> Other minor bug fixes
1.01 - Apr 18, 2017
> New Feature: Copy XML -> Convert your pseudo effect to XML code for use in the PresetEffects.xml file or to manually tweak the properties
> New Feature: Add seperators in Popup Controls by adding a blank line
> Minor Redesign: Copy XML, Paste XML and About have been moved into a hamburger menu at the top right of the interface
> Bug Fix: Earlier versions of After Effects can now open saved pseudo effects
> Bug Fix: On Mac, saved controls would not have the .ffx file extension by default, this has been fixed.
1.00 - Apr 13, 2017
> Bug Fix: Opening saved controls sometimes imported extra controls that couldn't be deleted.
> Bug Fix: Controls would have an extra Layer control at the top of the controls list. This was only visible in the Timeline panel in After Effects after the pseudo effect was applied to a layer.
0.99 - Apr 5, 2017
> Bug Fix: Pasting XML controls with multiple nested groups should now be imported without extra controls and errors
> Bug Fix: There was a bug with moving controls using the arrow buttons. Controls could not be moved past 'text' controls. This has been fixed.
> Bug Fix: Fonts - systems that were displaying serif fonts in the Pseudo Effect Maker interface should now see a standard sans-serif font
0.98 - Mar 22, 2017
Initial Release