Selector for Premiere Pro
Compatibility Premiere

Please check exact version compatibility under the "COMPATIBILITY" tab below
Easily select items and clips. Load selection presets in a single click!
Choose between items or clips

Add filters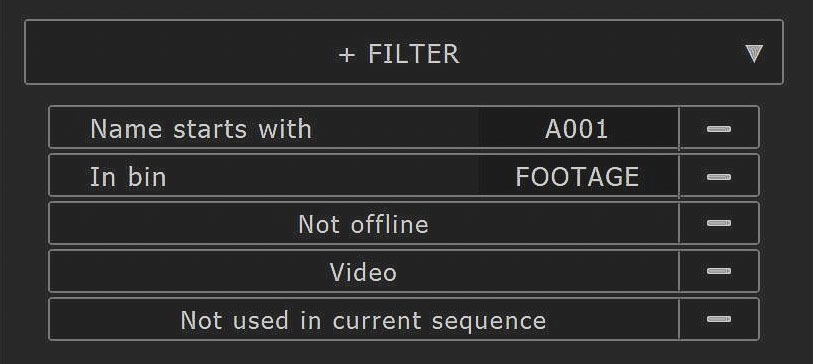 Available filters:
Name starts with
Name is
Name ends with
Name contains
In bin
Not in bin
In folder
Not in folder
Duration is shorter than (s)
Duration is longer than (s)
Adjustment layer
Not adjustment layer
Selected
Not selected
Offline
Not offline
File extension is
Audio
Video
Merged clip
Not merged clip
Multicam source
Not multicam source
Clip selected
Clip not selected
Used in current sequence
Not used in current sequence
Audio/Video
Sequence
Not sequence
Bin
Not bin
Nested sequence
Not nested sequence
Within sequence in and out points
Not within sequence in and out points
Has audio linked
Has video linked
Has audio or video linked
Speed reversed
Not speed reversed
Speed changed
Not speed changed
Has effect named
Mogrt
Not mogrt
In track
Not in track
Item selected
Select!

Save presets for later:

Custom preset examples: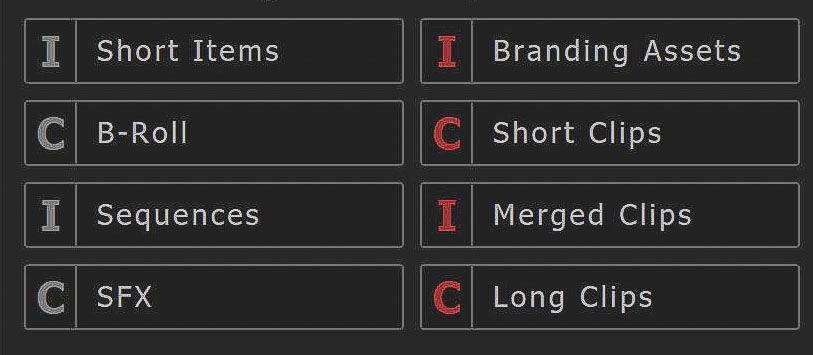 Quick access bar:
Navigate through selected clips

Quick Presets

| | |
| --- | --- |
| Premiere | 2022, 2021, 2020 |
1.4.0 (Current version) - Oct 31, 2021
COMPATIBILITY
Now runs in Premiere Pro 2022
FEATURES
Filtering
- Improvement to the filtering speed performance
Selection
- Support for bin panels. Items are now selected in project panel as well as other open bin panels.
Notifications
- You will now see a notification while a selection is being loaded
Navigation controls
- Turn on/off navigation controls in preferences, having them off speeds up clip selection even more
BUG FIX
Static preset:
- Fixes a bug where one clip from a static preset would not be selected
1.3.0 - Aug 1, 2021
FEATURES
New filters:
Item filters:
- Used
- Not used
Clip filters:
- Enabled
- Disabled
1.2.0 - Jul 1, 2021
FEATURES
New filters:
- Is in folder
- Is not in folder
New shortcut:
- Hold shift while clicking to make a selection to add to the current selection.
1.1.0 - Jun 13, 2021
FEATURES
New controls to cycle through selected clips
1.0.0 - May 24, 2021
Initial Release