Bookmarker
Compatibility After Effects

Please check exact version compatibility under the "COMPATIBILITY" tab below
What is it
Bookmarker is a compact toolbar for After Effects that makes it easy to access your most visited projects. Open After Effects project, save it as a bookmark and you're done - next time you can open that project from Bookmarker's list. Easy as that.
Working with multiple machines? Then you'll love the option to share bookmarks - just save bookmarks file into a custom location, point all your machines to that file and boom - with a click of a button you all have a list that is synced between all computers.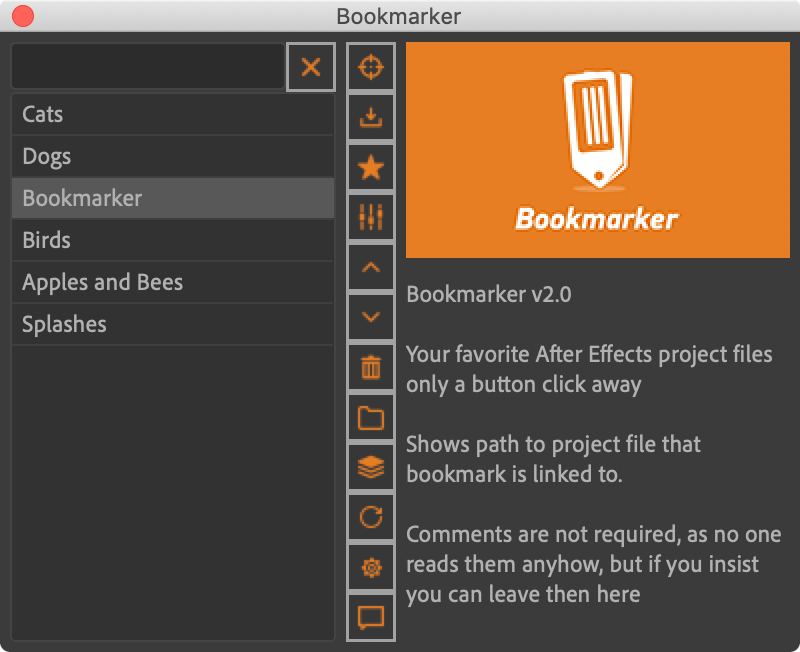 Features
Save project screenshot and comment
Save screenshot at current composition time or upload custom one
Set multiple machines to read/write same bookmark file
Launch AE project by double clicking on Bookmark
Import multiple projects to current After Effects project
Reveal selected bookmark's project file in finder
Edit bookmark - rename, add comment, change screenshot
Live search boomarker's list
Re-arrange bookmarks order
Delete bookmarks from the list
Import multiple After Effects projects to save them as a bookmarks
Enable or disable Preview/Comment area of the UI
Remove dead bookmarks on startup
Your favorite After Effects project files
only a button click away
User manual
Looking for more info about the tool? Find it in User Manual.
Trial version
The free 7 trial version which can be downloaded above is limited to maximum of 5 bookmarks
| | |
| --- | --- |
| After Effects | 2021, 2020, CC 2019, CC 2018, CC 2017, CC 2015.3, CC 2015, CC 2014, CC, CS6, CS5.5, CS5, CS4, CS3 |
2.0 (Current version) - Nov 12, 2019
Added:
* Clear search field button
* Create new Bookmakes file or pick an existing one to populate the list
* Option to write relative paths to screenshots instead of absolute in Bookmarks file

Changed:
* Rewrites codebase from ground-up
* Bookmarks file now saves as JSON schema instead of TSV for better readability
* Bookmarks file is specified by the file name and not the folder
* Licensing framework

Fixed:
* Thumbnail stops updating after 39 itemss in the list. Wont Import or store the data right after 39 either
* Search sometimes breaks the thumbnail images from showing
* Refresh button when added, and then clicked adds 3 rows of `undefined` and 3 rows of blanks
* Select text in the comments field then pressing backspace creates a []

Removed:
* Duplicate bookmark name check
* Rename bookmark upon importing external After Effects files
1.1.1 - Jul 11, 2015
Fixed bug for CC2015 when bookmarks file was adding "undefined" entries.
1.1 - Feb 23, 2015
- New: Set multiple machines to read/write same bookmark file;
- New: Save screenshot at current composition time or upload custom one;
- New: Option to optimise screenshot, when saving project preview image;
- Fixed: Tooltip on Windows now says "Reveal in Explorer" instead of "Reveal in Finder";
- Improved: UI images and screenshots are now saved to separate folders;
1.01 - Oct 29, 2014
Fixed Reveal in Finder on Windows.
1.0 - Oct 15, 2014
Initial release