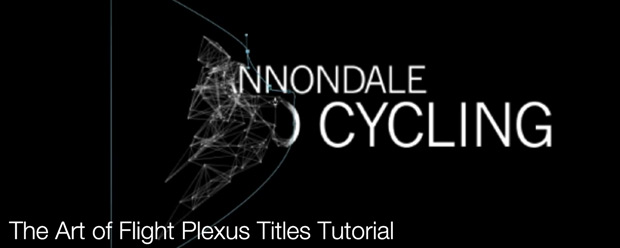 Gardner Raymond shows us how to use Plexus to make the awesome titles from the Art of Flight movie.

In part 1 he will show you how to create the titles as they appear in the movie "The Art of Flight":
Turning text into paths that can be used in Plexus
Setting up and animating the Plexus to appear as if it is creating the words on-screen
Creating a secondary Plexus to add extra motion and flourish after the initial build
In part 2 of this tutorial he will show you how to:
Motion track points in your scene using Mocha Pro/Mocha AE
Incorporate your Plexus Text into the scene so they're interconnected in After Effects
BONUS UPDATE: Some people had been asking about how to create the "magnified" effect within a Plexus as seen in The Art of Flight title sequence, so here's how to do it. Here is a quick overview of the steps needed to set up your Plexus - tracking, using Null Swapper, etc - and just focused on the "magnify" effect.
Tools Used
Gardner Raymond is the director and executive producer of Consequence Video Designs, LLC
More
Check out the interview with Chris Murphy the creator of the original title sequence.