LoadUP!
Compatibility After Effects

Please check exact version compatibility under the "COMPATIBILITY" tab below
Description
---
Designed to create any type of loading or progress bar, fast and easy. No more aligning, masking and fiddling around with expressions to create a simple bar. LoadUP! creates all the necessary shape and text layers, inserts key expressions and adds convenient effect controls for easy customization.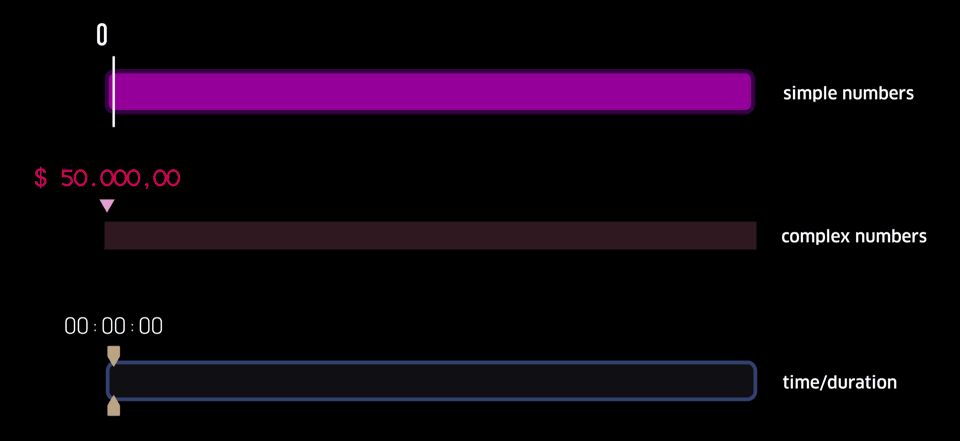 With LoadUP you can create any loading bar along with a text layer, pointer(s) and a ton of effect controls to customize it to your liking.
New in v1.5
---

Here is an overview of what's new in version 1.5 of LoadUP!


fixed: flipped pointer placement
added: new option for putting numbers inside a box frame
added: new option for buffering. Every bar has an extra buffering bar (like on-line video player interfaces)
added: 8 one-click presets (4 of which are interfaces from well-known video sharing sites)
added: nine (9) additional numbering modes (total is now 12):
simple number + leading zero
HH:MM / TT:TT
HH:MM:SS:FF @ 24 fps
HH:MM:SS:FF @ 25 fps
HH:MM:SS:FF @ 29,97 fps (drop frame mode)
HH:MM:SS:FF @ 30 fps
HH:MM:SS:FF @ 50 fps
HH:MM:SS:FF @ 59,94 fps (drop frame mode)
HH:MM:SS:FF @ 60 fps

optimised: renamed "Reflection Amount" to "Reflection Coverage %" which is now relative to the bar height.
optimised: impoved text positioning code
optimised: custom effect controls have been implemended for a more clean a compact look


| | |
| --- | --- |
| | |
| a few examples of the nine new numbering modes | one-click presets |
| | |
| --- | --- |
| | |
| new buffering option | new option for placing numbers inside a frame |
Upgrade notice: v1.5 is free for all existing users!
User interface - Basic options
---
LoadUP! can be run as a dockable panel (will be visible and run from the "Window" menu in After Effects) or in "window" mode" (visible and run from the File -> Scripts menu).

The mode depends on which folder you install the script in.

Great care has been taken to make sure that most properties controlled by LoadUP! expressions is unlocked and editable.

The text layer(s) that the script creates is completely independent. This means you can edit, move, scale, rotate, etc. the layer in relation to the bar. You can even delete the text layer you want without affecting the functionality of the script.

---

LoadUP! is compatible and has been successfully tested on:

After Effects CS6
After Effects CC
After Effects CC 2014
After Effects CC 2015
After Effects CC 2015.3
After Effects CC 2017
After Effects CC 2018

on both Windows and OS X platforms.

If you encounter any bugs please open a support ticket describing the problem as detailed as possible including screenshots. Please be patient, I am just a motion designer like you!
User interface - Powerful numbering options
---
Smooth counting
---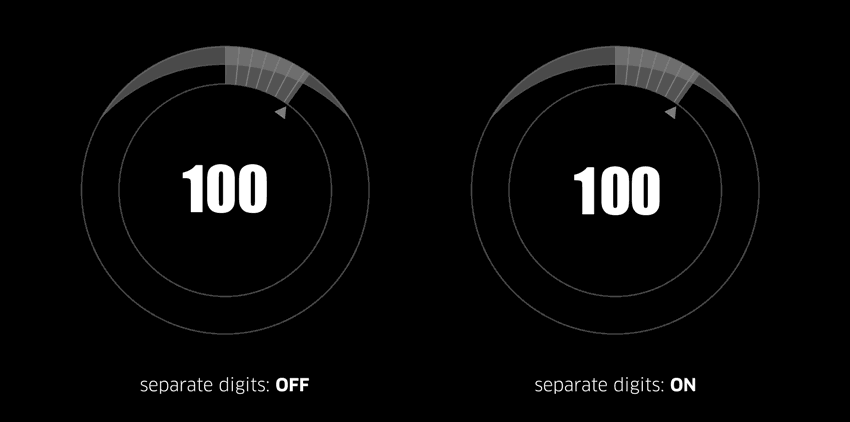 LoadUP! has a unique feature that prevents the annoying character wiggling you get when animating (counting up or down) a text layer. When "separate digits" is checked, LoadUP! puts every necessary digit to a different layer and animates all them just like being a single layer. This way you can use whatever font you prefer, without worrying about character widths, mono-spaced fonts etc.
Randomize Colors
---
LoadUP! comes with 10 carefully picked color presets to easily change the look of your bar.

Additionally, you can fully customize every part of the bar. You can set the color of the filling, stripes, text, pointer, background and outline.

By holding the CTRL key pressed on your keyboard and hitting
[ APPLY ], LoadUP! randomizes the colors and applies them to the selected LoadUP! bar with a single click!
Features
---
keyboard controlled interface - every numeric text box in the interface can be precisely controlled with the keyboard arrow keys ↑↓

grouped undos - you can undo the whole bar creation process with a single click
uniform label color - each bar with its corresponding text layer(s), has the same label color - every bar that you create has a different label color
multiple bars in one composition - you can create as many bars as you like inside a single composition. Each bar has a unique name
dockable panel or window mode - the script can be run as a dockable panel or a floating window. The mode depends in which folder you install the script
integrated help and tool tips - every control in the user interface has a tool tip. Clicking on the easyRuler logo, brings a window with help tips
user guide - along with the script, there is a 11 page user guide (PDF)
language independent - the script works in every international version of After Effects, no matter the language is installed on



Effect Controls
---

This is an example of some of the effects controls that you will find in the effect panel of the shape layer that LoadUP! creates. Only the effect controls that are needed are added to the effects control panel.

For example, if you select not to generate a text number then the "[ TEXT ]: size", "[ TEXT ]: tracking", "[ TEXT ]: distance", and "[ TEXT ]: Color" will not be added as they are redundant

If you like this tool, please visit:
www.realcreations.gr
| | |
| --- | --- |
| After Effects | CC 2018, CC 2017, CC 2015.3, CC 2015, CC 2014, CC, CS6 |
1.5 (Current version) - Jan 9, 2018
fixed: flipped pointer placement
added: new option for putting numbers inside a box frame
added: new option for buffering. Every bar has an extra buffering bar (like on-line video player interfaces)
added: 8 one-click presets (4 of which are interfaces from well-known video sharing sites)
added: nine (9) additional numbering modes

simple number + leading zero
HH:MM / TT:TT
HH:MM:SS:FF @ 24 fps
HH:MM:SS:FF @ 25 fps
HH:MM:SS:FF @ 29,97 fps (drop frame mode)
HH:MM:SS:FF @ 30 fps
HH:MM:SS:FF @ 50 fps
HH:MM:SS:FF @ 59,94 fps (drop frame mode)
HH:MM:SS:FF @ 60 fps


optimised: renamed "Reflection Amount" to "Reflection Coverage %" which is now relative to the bar height.
optimised: impoved text positioning code
optimised: custom effect controls have been implemended for a more clean a compact look
1.02 - Dec 12, 2017
- fixed a math rounding issue appearing on very small numbers
1.01 - Feb 16, 2017
- small bug fix for non-English AE installations
1.0 - Nov 9, 2016
Initial release