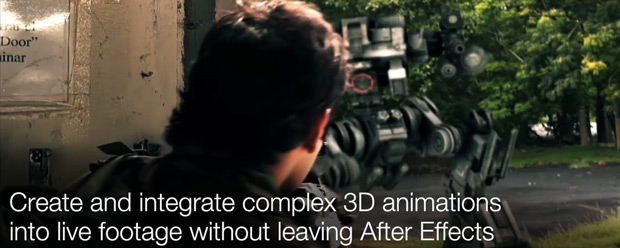 In this ground breaking 2-part tutorial from Kevin Schires and TFX-tv we will show you how to create complex 3D animations that can be integrated into live footage without leaving After Effects. This process up-ends the traditional workflow of having to export tracking data to dedicated 3D software, animate and render the 3D objects, then import several render passes into After Effects for compositing. We hope this tutorial inspires you to push the boundaries of what is possible in After Effects.
Welcome to the new workflow: The 3D models will be rendered using Video Copilot's Element 3D (but this applies to all the plugins supported by Elementary such as Shape Shifter, etc). The advantage of this workflow is that the 3D scene remains interactive during the whole process: the position of the models into the scene, the scene's lighting and even the materials used can be changed at any time.
We will show you how to use Elementary to animate 3D models with forward and inverse kinematics within After Effects. We'll also show you how to better integrate the models with the scene by creating dynamic shadows set up by Elementary.
Part 1. Advanced animation: robot
This tutorial will describe how to animate a walking robot integrated into a scene tracked with Mocha. The first video describes the rigging and animation of the robot. The second video will show you the result then describe the tracking and integration of the robot into the scene.
Part 2. Basic animation: helicopters
In case part 1 felt overwhelming, here is something simpler to help you get started. We'll discuss how to simplify the animation of 3D models by using some characteristics of the Null Objects (parenting, auto-orientation, anchor points, etc). Then we'll show you how to get accurate results when creating shadows for parallel lights.