Goodbye Greenscreen
Compatibility After Effects

Please check exact version compatibility under the "COMPATIBILITY" tab below
GOODBYE GREENSCREEN IS WINDOWS-ONLY AT THE MOMENT!
FEATURES
Create a matte from a video and a clean background (download this test footage at the bottom of the page!)

Use together with After Effects' internal effects for further keying control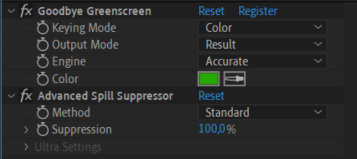 Experimental GPU support
Nvidia cards supporting CUDA 10.2 and above can be used to greatly improve performance.
Demo Footage
Download the demo footage from the bottom of this page to test the plugin.
Credits
Based on research and implementation of: https://grail.cs.washington.edu/projects/background-matting-v2/
Compatibility
Goodbye Greenscreen is a windows only plugin at the moment. It runs on AE 2020 and above. Please test your configuration using the free trial.
Limitations
The AI is mostly trained to key out humans, so it may behave poorly on other objects.
16bit rendering may produce artifacts, we are working on a solution.
Gpu mode may be not as stable as cpu mode.
Trial version
A red cross is rendered in trial mode.
1.2.0 (Current version) - Feb 5, 2021
- better gpu stability
- visualization of detected matchpoints
1.1.0 - Feb 5, 2021
- improved perspective matching
- experimental gpu support
- bug fixes
1.1.0 - Feb 5, 2021
- improved perspective matching
- experimental gpu support
- bug fixes
1.1.0 - Feb 5, 2021
- improved perspective matching
- experimental gpu support
- bug fixes
1.0.1 - Feb 2, 2021
- support for arbitrary resolutions
- bug fixes
1.0.0 - Feb 1, 2021
- initial release